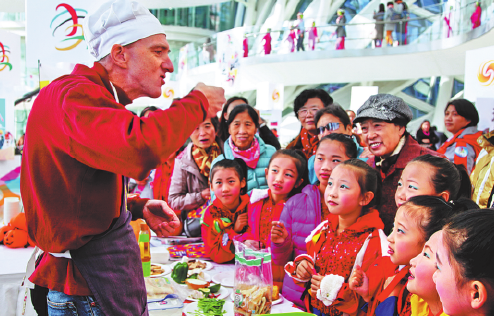 A foreign chef offers treats to Chinese visitors at a shopping mall in Chaoyang. Amid a heavy international atmosphere, the district hosts regular events to promote cultural exchanges. [PHOTO BY HU KAI/FOR CHINA DAILY]
Foreign professionals are attracted to the strong international atmosphere and friendly urban environment in Beijing's Chaoyang district.
Andy Mok, a Chinese American, has been in Beijing for 11 years. He works as a commentator at China Global Television Network and as a research fellow at the Center for China and Globalization, one of China's top independent think tanks.
He is also a consultant for the Global Innovation Week to help foreign entrepreneurs and creative professionals learn more about the opportunities and resources available for them in Chaoyang district.
Beijing is a magnet for the most talented people not just from around China but from around the world, Mok said.
The Global Innovation Week is an important event of the Overseas Talent Entrepreneurship Conference, which is supported by the local government and aims to continuously stimulate market vitality and attract more excellent overseas startup projects to Chaoyang.
The conference has been held annually since 2013 and has attracted more than 23,000 entrepreneurs from 20 countries and regions, including the United States, the United Kingdom, the Netherlands, Australia and South Korea. More than 480 projects have been signed through the event.
In addition to Chaoyang's strong entrepreneurship atmosphere, foreign artists are inspired by the district.