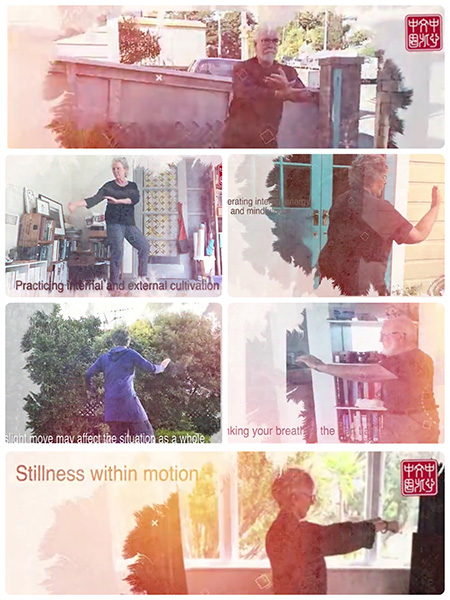 The Online Taichi Chains class launched by the China Culture Center in Wellington shows students practicing taijiquan at home during the epidemic.[Photo/Chinaculture.org]
Since "staying at home" has become normal for New Zealanders, the tai chi class at the China Cultural Center in Wellington has moved its teaching activities into an online classroom. The Online Tai Chi Chains activity initiated by the center is quietly spreading on Tiktok in the form of short videos.
Zhang Jianyong, the martial arts teacher at the China Cultural Center in Wellington, uploaded the short videos of tai chi, which he shot and edited, to many social media platforms, such as Tiktok and Youtube and won a lot of praise. The cultural center launched two rounds of Online Tai Chi 24 Moves Chains activities for Chinese and English tai chi classes.
Each tai chi participant first signs up in a WeChat work group, and each person receives designated moves according to the number who signed up, and then makes a short video of his practice and sends it to the work group. Zhang, the person in charge of the online classroom will edit a complete short video of the 24 tai chi moves, which will be uploaded to each major social platform. Zhang Jianyong said that the 24 tai chi moves is a set of entry-level taijiquan compiled by the Chinese martial arts circle. It is simple and suitable for all ages and is an excellent course for strengthening the body during the epidemic period.