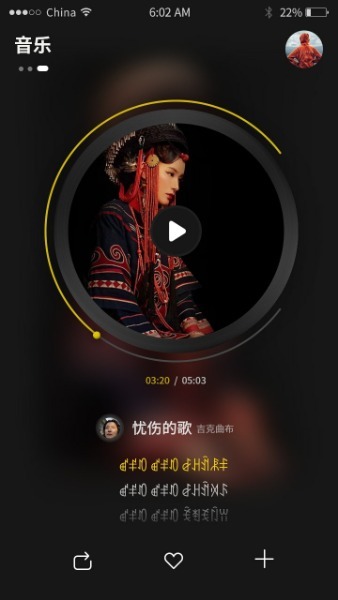 The app provides news feeds for users, and is also a platform where users can enjoy listening to songs in the Yi language.[Photo provided to China Daily]
Thinking big
The app, apart from bringing greater convenience, can also serve as an important cultural tool. It can be used as a database to collect oral and written records of Yi culture and help preserve it.
"We will ask Yi singers to record songs," Mise says.
"Moreover, for the elderly people who still remember our traditional songs, we will help them have the old songs recorded or filmed.
"For example, there are some beautiful songs that I heard shepherds singing when I was a kid. I hope such songs will be recorded and passed down to future generations."
Currently, their automatic speech recognition for the Yi language only has 60 to 70 percent accuracy. Technicians have to update the program when sentences can't be recognized by the system. The team now has 12 technicians.
"My plan is to develop this Yi language voice assistant in two or three years, and we will only launch it when it's ready. We don't want to provide any half-done products," Leku says.
Their work and goals were ably assisted by the Yi people. Singers and directors promised to support the app by posting their audio and video materials for free. Some Yi students also volunteered to help test the voice assistant function and offer their version of Yi oral materials.
Professors of the Yi language from Southwest Minzu University and Minzu University of China also helped them check on the translation into Mandarin. "New words keep coming, especially recently concerning COVID-19," Leku says.
The app now boasts more than 400,000 registered users. "Most of them are Yi people, but some are people who want to know more about Yi culture," Leku says.
Money is always an issue for any entrepreneur. So far they have accumulated debts of more than 200,000 yuan ($28,230) each in order to keep their team running.