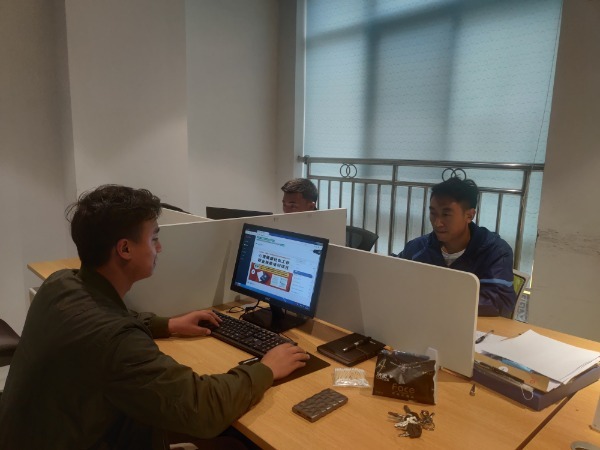 Young entrepreneurs of the Yi ethnic group (from left) Mise Achang, Leku Wuniure and another colleague work in the office of their startup, Yayou app, which offers a series of Yi-language services.[Photo provided to China Daily]
A modern phone can put the world at the user's fingertips. Calls, messaging, photos and information access, all make for an enhanced lifestyle. But sometimes, these phones are of little practical use. Leku Wuniure's 63-year-old mother communicates in the Yi language. She can't read Chinese or speak Mandarin and is unable to read numbers. Consequently, a simple, taken-for-granted feature of any modern phone, say finding a contact, can prove to be difficult. Whenever she wants to call her son, she has to ask someone to help her to dial his number.
Leku, 25, a young man of the Yi ethnic group, naturally, wanted to help. So he created an app that responds to his mother's request to "call my son" in the Yi language. Once this is said, the app will automatically dial his number. The app is called Yayou. It turned out to be a fantastic aid for his mother and has also benefited many among the more than 8 million Yi people in China.
"With the app, I wanted to help my mom, as well as the Yi people," says Leku, a college student at Southwest Petroleum University in Chengdu, the capital of Southwest China's Sichuan province. "Besides my mother's plight, I've also witnessed some villagers, who left to make a living as migrant workers in cities, suffering financial losses or misunderstanding due to the obstacles in communication."
The dream is becoming bigger-after more than two years' development, Leku and his partner Mise Achang are ready to launch an updated version of their app in May. The 2.0 version of Yayou will have several new functions, providing news and entertainment content, as well as online shopping services, in both the Yi and Chinese languages. What's more exciting, some users will be able to test the new voice assistant function and interact with their smartphone in the Yi language, before its final release.