The technique of covering part of the ceramics with a decorated gold sheet was quite rare during the Liao Dynasty. One white porcelain glazed dish – dated 959, near the beginning of the period, and excavated in 1954 at Tomb #1 in Dayingzi Village near Chifeng, and now displayed in the Inner Mongolia Museum at Hohhot – has a gold rim on its lips and foot ring. In the center of the foot ring is the Chinese character guan ("official"), indicating that the piece was made in kilns for special use by the Qidan imperial family and officials.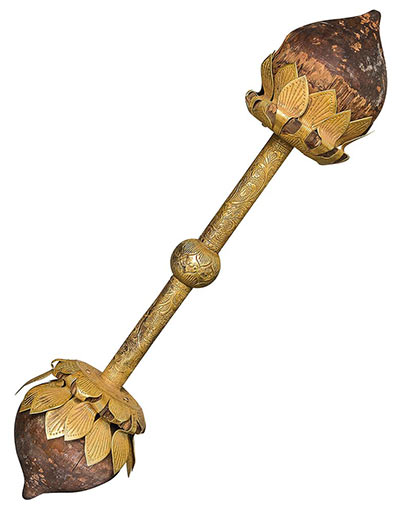 Ritual Buddhist object vajra, wood and gold, northern China, nomadic Qidan tribe, 9th–10th centuries AD , long: 23cm. [Photo provided to China Daily]
According to this insignia, it can be said that the present group of white glazed ceramics, decorated with gold sheet in openwork, were made for the use of the Qidan imperial family and officials for daily life and during religious rituals. As the two vajra (a five-pronged spherical club) are typically Buddhist objects, we may consider that some cups, bowls and ewers (jugs) were used to drink tea during some ritual ceremonies, as tea is linked to Buddhism – and more precisely to the Chan (Zen) School of Buddhism. With its emphasis on meditation, the school recommended that its followers drink tea in order to remain alert and awake during their long hours, or even days, of meditation.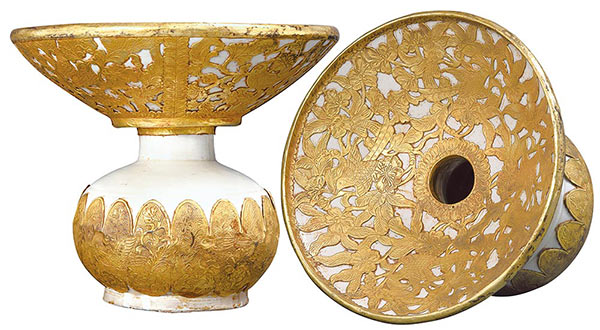 White-glazed stoneware chadou decorated with gold, northern China, nomadic Qidan tribe, 10th century AD, diameter: 18.2cm, height: 15.4cm. [Photo provided to China Daily]
Deydier Hong Kong is also honored to showcase a group of wood and white-glazed ceramics that are entirely decorated with gold sheet. Among these treasures, two particularly exceptional objects are of note. First is a white-glazed ceramic chadou, entirely covered with gold sheet and decorated in openwork, which was likely made for the Qidan imperial family or some high-ranking officials. Then there's a rare ritual Buddhist object in wood and gold, in the shape of a vajra with finials taking the form of lotus bulbs.
Deydier Hong Kong opened in October and is located at Tower B, Shop 1, 123 Hollywood Road in Sheung Wan. From November 23 to December 14, discover these timeless treasures within – and consider adding a valuable piece of history to your collection.
This is a sponsored article.