Today, these priceless pieces of history can be yours. From Bronze to Gold: Ritual Vessels from Ancient China, a rare selling exhibition held from November 23 to December 14 at Deydier Hong Kong, featured numerous exceptional pieces from the Shang and early Zhou dynasties that are available for purchase.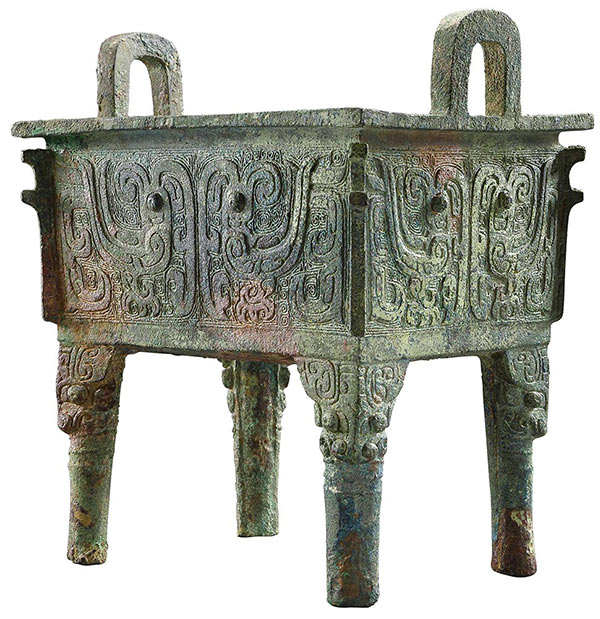 Ritual bronze food vessel fangding, Western Zhou Dynasty, 10th century BC, height: 19cm. [Photo provided to China Daily]
Among them, two are particularly intriguing. First, there's a rare fangding bronze cooking vessel from the Western Zhou Dynasty, circa 10th century BC. It's decorated on each side with two large birds, facing each other and shown in profile, on a leiwen background. This rectangular type of vessel, with two vertical handles fixed on the rim and supported by four cylindrical legs, appears, in bronze, at the beginning of the Shang Dynasty during the Erligang period (circa 17th/16th–14th centuries BC).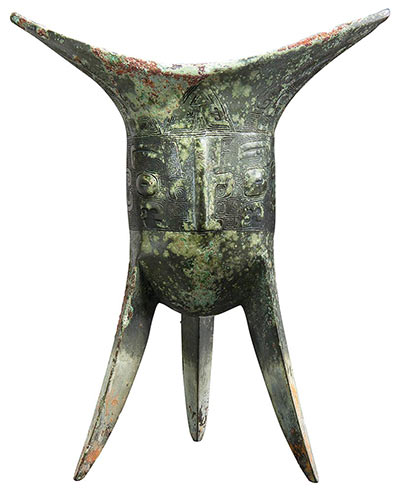 Ritual bronze wine vessel jiao, Shang Dynasty, Yinxu period, circa 13th century BC, height: 23.5cm. [Photo provided to China Daily]
Next, there's an exceptional jiao ("wine/alcohol") vessel from the Yinxu period in the Shang Dynasty. Established in pottery during the Neolithic period, jiao vessels appeared in bronze for the first time at the end of the Erlitou cultural period (18th/17th centuries BC) and became very popular in the transitional period between the late Shang Dynasty and the early Western Zhou Dynasty around the 11th century BC.