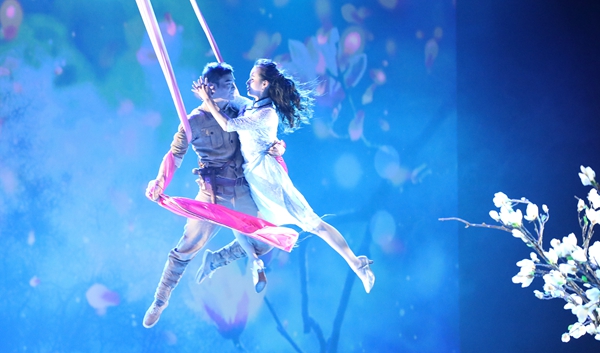 Performers take part in the acrobatic theater production that will open the 21st China Shanghai International Arts Festival on Friday.[Photo provided to China Daily]
High-wire act set to enthrall Shanghai audiences, Zhang Kun reports.
An original acrobatic theater production titled Battle of Shanghai will premiere at the Shanghai Grand Theatre tonight as part of celebrations for the opening of the 21st China Shanghai International Arts Festival.
This is the first time an acrobatic show is being presented during the grand opening of the CSIAF, says Wang Jun, president of the organizing committee of the festival.
Jointly created by the Shanghai Acrobatic Troupe and the Shanghai Circus School, the production-which tells the story of young revolutionaries on the eve of Shanghai's liberation in May, 1949-will feature a combination of acrobatic stunts, video projections and novel stage designs. Shanghai-based news portal The Paper lauded the production as "a big step forward for Shanghai-style acrobatics".
According to the organizers, the festival will feature 97 theater performances, eight of which will be shown for the first time to the world.