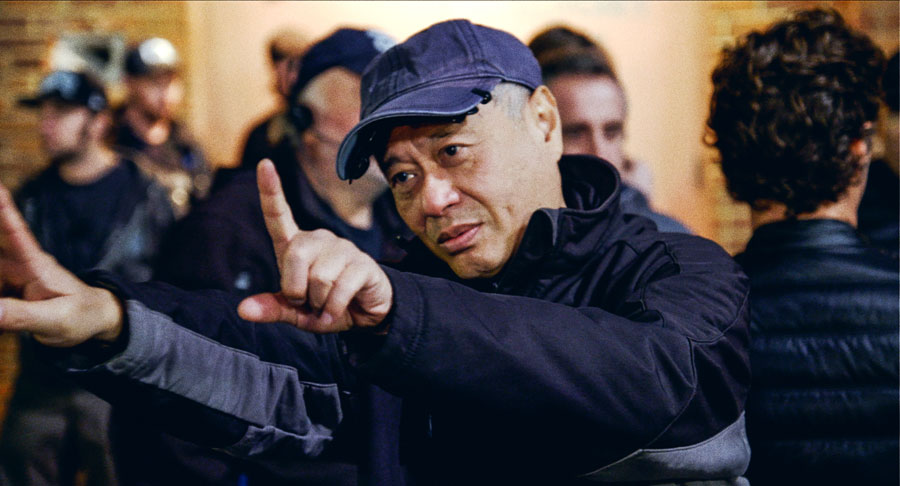 Ang Lee, the Oscar-winning director, guides actors for his new film  Gemini Man. [Photo provided to chinadaily.com.cn]
"My 'actor' is multiple times more expensive than the highest-paid star in Hollywood," Ang Lee, the Oscar-winning director, said while promoting his upcoming film Gemini Man in Beijing on Saturday.
The "actor" Lee mentioned was actually created by digital technology, transforming Will Smith – the 51-year-old Hollywood star -- into a 23-year-old on big screen.
As Lee's latest special-effects-studded production, Gemini Man is a thriller that tells the story of a retiring government assassin who discovers a younger clone of himself.
But interestingly, the script didn't convince Lee at the first glance.
"The script is a bit old-fashioned and stereotyped. It didn't capture my attention when I first heard this story. But I was thinking it would be a weird and amazing to see a younger self from the past to stand face to face with the current self…What has time done to us? I wanted to examine this theme more," Lee said.
There is another advanced cinematic technology that attracted Lee to shoot Gemini Man. The film has again applied the high-frame-rate photography that he used for shooting his last film Billy Lynn's Long Halftime Walk, which was shot in 3D at 120 frames per second and 4k resolution.
Usually, a film is shot at 24 frames, meaning that Gemini Man has much clearer and brighter visual effects to provide a more immersive experience.
Lee said the 120 frames could make audience feel like that they are onlookers who are in the same world as the characters, and will perhaps change the history of cinema.
Gemini Man will open across China on Oct 18, but only 30 Cinity screens in the country would be able screen the film in its original format on its opening day, but the number is expected to expand to 50 by the end of October, Fu Ruoqing, chairman of Huaxia Film, said.