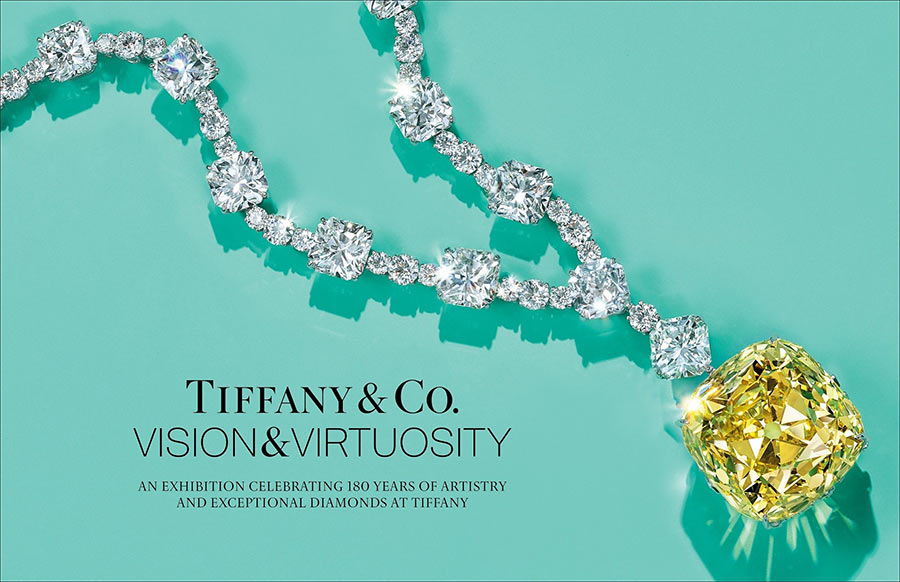 Vision and Virtuosity, an exhibition showcasing Tiffany's 180 years of artistry and craftsmanship in jewelry making, is at the Fosun Art Center in Shanghai. [Photo/ www.tiffany.cn]
Tiffany's 180 years of artistry and craftsmanship of jewelry making
Tiffany, a byword for refined American glamour since its founding in 1837, had its allure further cemented and immortalized in pop culture by screen goddess Audrey Hepburn in the 1961 film Breakfast at Tiffany's.
The legendary US jeweler is celebrating its greatest creative masterpieces of the past 180 years through Vision and Virtuosity, an exhibition held at the Fosun Art Center in Shanghai.
The first of its kind for Tiffany, Vision and Virtuosity showcases 350 pieces of jewelry, with about 100 displayed for the first time in public. Highlights include one of the world's largest and rarest yellow diamonds, which weighs 128.54 carats and has 82 facets, the original script of the movie Breakfast at Tiffany's, and Tiffany's 1845 Blue Book, the first mail-order catalogue in the US.
The show runs until Nov 11.
If you go: 10:00-18:00, Tuesday to Sunday. 600 Zhongshan East 2nd Road, Huangpu District, Shanghai上海黄浦区中山东二路600号