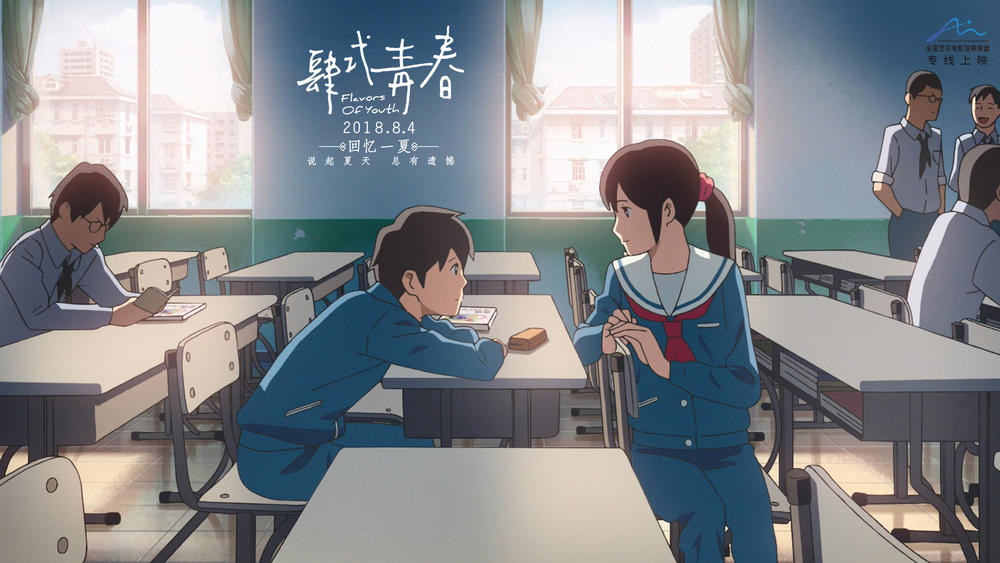 Flavors of Youth has been released in China and Japan. [Photo/Provided to China Daily]
Shang said that while hiring professional in-house voice actors from English-speaking countries, the company's dubbing team also helps with the creation and adaptation of the content to match the culture in the target market. For a hit series such as Boonie Bears, episodes and films are available in many languages, including Spanish, French and Portuguese.
Chin, from Puzzle Animation, said it is important to build up the brand image of Chinese animation works and unleash the market potential, adding that the overseas success of its animation series has resulted in substantial profits in toy sales related to its work.
"Take the Vietnam market for example," Chin said. "Our annual sales of toys there might be just $50,000 per year, but together with the promotion of our World Peacekeepers series in the country, the figure could rise to $300,000."
Puzzle Animation exports its work through its sister company Asia Animation in Hong Kong, and is aiming to export the World Peacekeepers series to the US market this year, Chin said. From this year, the Hong Kong company will become a platform for exports of high-quality Chinese animation work overseas.
Fantawild's Shang said the company aims to explore new intellectual property with strong Chinese characteristics and greater international appeal. This summer, the company will release the animated feature Realm of Terracotta.
"Terracotta is a Chinese cultural symbol that is well-known internationally, which might make it easier to promote the movie overseas," Shang said. "At the same time, we invited award-winning US scriptwriters to collaborate with us on the creation of the story, to improve the work's quality and international appeal."
The brand image and aesthetic concept of Chinese animation will gradually grow with more and more works and animators going overseas, Song said. Chinese companies need to find a shared style, similar to how Japanese animation is known for its kawaii (cute) big eyes, and how US works can be recognized immediately for their strong style, he said.
"The future is bright," Song said, adding that the export market accounted for nearly 50 percent of the entire Japanese animation industry in 2017, indicating there is great potential for Chinese companies to increase their exports.
"Growth of the Chinese animation industry very likely lies in the overseas market," Song said.
Van Eyken, from the Asia-Pacific Animation Association, is also optimistic. He said China is a huge country with a vibrant animation industry, and he thinks it will not be long before it tells China's story to the world.