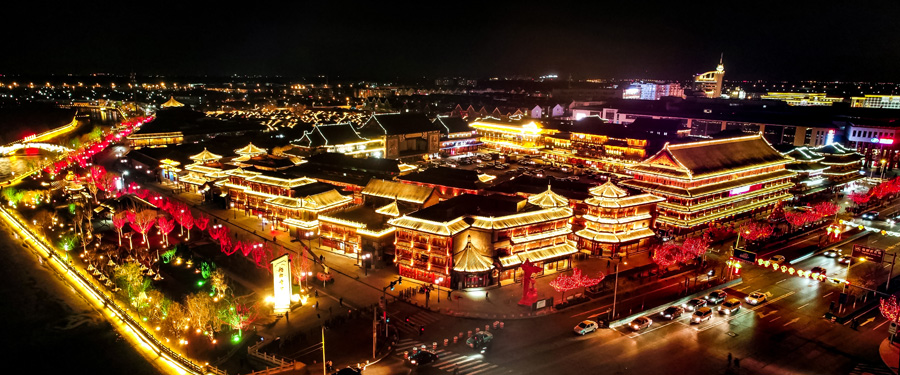 An aerial night view of Yangliuqing ancient town. [Photo provided to China Daily]
Once famed for its unique style of woodblock printing, the ancient town of Yangliuqing is now drawing crowds with its well-preserved traditional architecture, Yang Cheng reports in Tianjin.
The first thing that usually springs to mind when people hear the name Yangliuqing is woodblock printing, because the small town on the outskirts of Tianjin is famous for its individual style of printing that dates back more than 400 years to the Ming Dynasty (1368-1644).
Literally meaning "poplar willow green", Yangliuqing is a settlement with over 1,000 years of history which is considered to be the origin of the sprawling northern Chinese port city of Tianjin.
Tan Ruwei, a renowned historian and folk culture expert from Tianjin, says: "Yangliuqing is one of the most unique and important cultural landmarks in Tianjin and North China. The water transportation trade along the Beijing-Hangzhou Grand Canal helped to boost the town's growth."
Thanks to the canal, the town enjoyed unparalleled prosperity from the Song Dynasty (960-1279) onward and continued to thrive well into the Qing Dynasty (1644-1911).
"This commercial prosperity fostered cultural awareness and helped the local people there to develop an inclusive and innovative spirit toward business and the arts," he says.