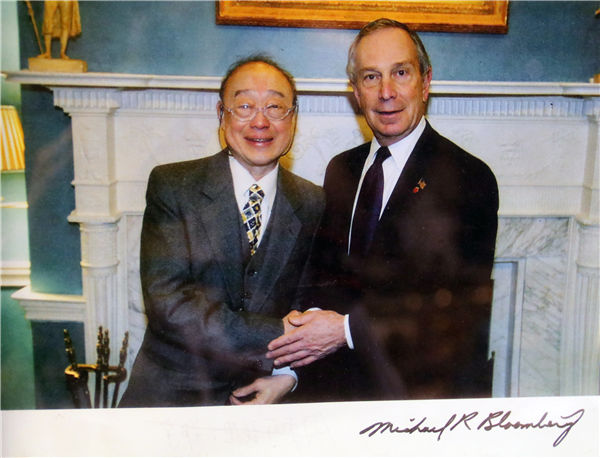 Chen Shizhen with Michael Bloomberg, the former mayor of New York City. [Photo by Judy Zhu/China Daily]
Since then Chen has weathered more than half a century, experiencing the ups and downs of a volatile and profitable market, where sales records were made to be broken, and has witnessed the final years of a company whose own history is embedded in that of contemporary China.
About 100 years ago the Ton Ying Company, one of the earliest concerns in New York to deal in Chinese antiques, was founded by Zhang Jingjiang, known as Chang Ching-chiang.
Chen was unable to see Zhang in person - the legendary man died in New York in 1950, more than a decade before Chen arrived there - but the latecomer has familiarized himself with the story of a man whose legacy he still palpably feels. "Zhang was born in 1877 in a business tycoon family in Zhejiang, southeastern China," says Chen, who has just received from a Chinese friend a biography of Zhang published in China in 2011.
"After having largely forsaken a political career due to illnesses that had crippled him and damaged his eyesight, he sought to become the 'third secretary' for the then Chinese minister to France Sun Baoqi.
"However, after arriving in Paris as part of Sun's delegation in December 1902, Zhang, led by his own business acumen, soon discovered a new calling. With financial backing from his father he set up a company with a gallery on Place de la Madeleine, importing Chinese tea, silk and art, before eventually branching out to London and New York."