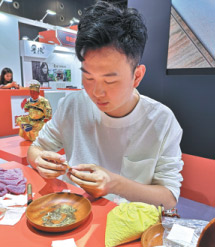 Lin Chien-Hsiang decorates a wooden plate at a Taiwan exhibition stall at the Yiwu events. [Photo by XU LIN/CHINA DAILY]
"They like quality products with innovative concepts and practical functions."
Smart tourism was another major theme of the fairs.
Visitors used an interactive map of Zhejiang's scenic areas. They could pull up detailed information about the sites by touching them on the large screen.
Hangzhou Maipu Culture and Creativity Company's CEO Ouyang Jinwei says the company has worked with many Chinese scenic areas to establish smart-guide systems to better serve tourists, especially independent travelers.
Tourists can use these interactive maps at sites or scan QR codes with their phones. The systems offer audio introductions and show the locations of nearby toilets, parking lots, restaurants and places to get panoramic views.
"In the smart-tourism era, you can travel with just your smartphone," Ouyang says.
"All the information is there for you."
Contact the writer at xulin@chinadaily.com.cn