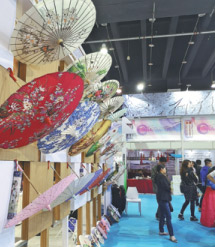 An array of creative cultural products is displayed at the 14th China Yiwu Cultural Products Trade Fair and the 11th China International Tourism Commodities Fair in Yiwu city, Zhejiang province. [Photo by XU LIN/CHINA DAILY]
Lin Chien-Hsiang was carefully decorating the back of a wooden smartphone case at a Taiwan exhibition stall at the Yiwu events.
The 35-year-old first sketched with a pencil, embossed the case with powder and glue, and then added gold leaf.
The booth showcased several wooden plates he created using the same method.
These ancient techniques dating back to the Tang Dynasty (618-907) were used to render auspicious patterns on religious statues and murals in ancient times.
The Yiwu fairs were Lin's first time to design creative cultural products.
"Integrating ancient techniques and daily-use items is a good way to promote our traditional culture, especially among youth. Using these products will remind them of traditional craftsmanship," he says.
The Yunlin Cultural and Creative Industry Development Association in Taiwan brought five artisans, including Lin, to create and display their works.
"The fairs offer us a good opportunity to communicate with others about creative cultural products," says the association's president, Wu Ming-Yi.
"Our association has actively participated in similar exhibitions on the Chinese mainland in recent years, and more young artisans are involved."