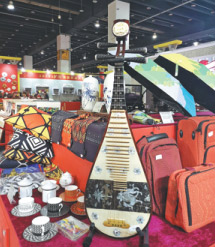 An array of creative cultural products is displayed at the 14th China Yiwu Cultural Products Trade Fair and the 11th China International Tourism Commodities Fair in Yiwu city, Zhejiang province. [Photo by XU LIN/CHINA DAILY]
It's time-consuming to make such products by hand, she says. But more people are willing to pay higher prices for such unique items.
"The key is to cultivate the market," Wu says.
"We're also trying to promote Yunlin's creative cultural products in Southeast Asia."
Yao Jili, founder of S&G Cultural Communication (Beijing), says Chinese demand for creative cultural products is enormous, and the items are increasingly diverse and feature regional elements.
The company has worked with several Chinese museums, such as the Tsinghua University Art Museum, to develop such souvenirs.
"We work with local inheritors of intangible cultural heritage to imbue art into daily-use items," Yao says.
She finds inspiration for her creations "everywhere on Earth" and blends traditional culture with the emotion and material, she says.
She uses factories' leftover bamboo to make portable, cylindrical power banks. She also designs tea sets shaped like traditional Chinese arched bridges.
"Our target customers are well-educated young and middle-aged people, who are interested in traditional culture," Yao says.