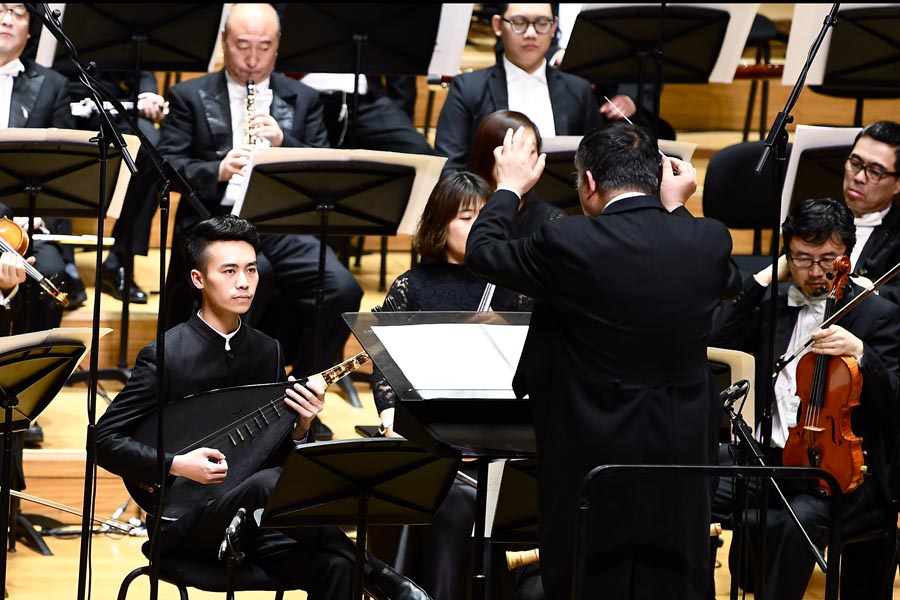 Wang Jinxin (first from left), a pipa player of the Xiamen Nanyin Troupe, collaborates in a concert with the China National Symphony Orchestra in Beijing in 2018. [Photo provided to China Daily]
Wandering the streets and lanes of Quanzhou, a historical port city and a starting point of the ancient Silk Road, one will often hear enchanting snatches of the slow, soft and pleasant melodies emanating from a newsstand on a street corner, a grocery store in a brisk marketplace or a residential house with its door tantalizingly ajar.
That's the sound and ethos of Nanyin, an ancient music genre of Minnan, or southern Fujian province, which can be traced back to the Tang dynasty (618-907). One of the country's oldest music styles, Nanyin (literally meaning "music of the south") came into being and thrived as the culture of central China spread to Quanzhou and integrated with local arts. Although its melody was often associated with the lofty dignity of royal court music, it gradually melted into local folk life, and was passed down from generation to generation. Nanyin became "the sounds of hometown and motherland" in the minds of many overseas Chinese who left Quanzhou.
Its aficionados would collect Nanyin cassettes and albums, organize regional associations of Nanyin enthusiasts, hold salons and set up musical theaters. In Quanzhou alone, there are about 500 music associations dedicated to Nanyin's soothing sounds, and more than a dozen festivals and competitions are held annually both at home and abroad.
Zhang, who majored in music engineering in college, was enchanted by the tunes she heard and felt a stirring curiosity about the unfamiliar genre. She found a tutor and learned how to play the pipa. She then enrolled as a postgraduate student on Nanyin music at Quanzhou Normal University in 2017, the only university in China that offers such a course.