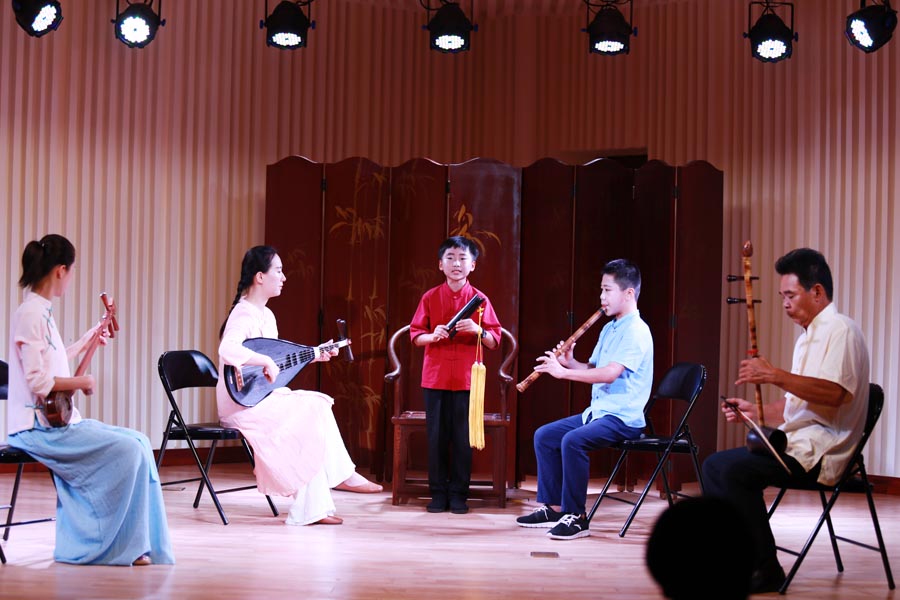 Students of the Liubin Primary School in a rehearsal in Jinjiang city, Fujian province.[Photo provided to China Daily]
Modern remedy
On a title page of a 300-year-old music score of Nanyin, according to experts, is a line written in Chinese-xiaochou gaimen-which means "freeing people from worries". It reveals how Nanyin meets people's emotional demands.
Wang Jinxin, 25, echoes with the idea of the worry-freeing functions of Nanyin, who learned the art since primary school and is now a promising pipa player in the Xiamen Nanyin Troupe.
"The music reflects a philosophy of life," Wang says. "And playing it is like encouraging people in a fast-paced work environment to slow down and enjoy a moment of tranquillity."
A Nanyin band is basically composed of five people, with the singer holding the clappers, surrounded by four players on the pipa, dongxiao (flute) and the stringed instruments erxian and sanxian. Among the instruments, the pipa, dongxiao and clappers retain their traditional shapes and techniques since the fourth century.
Wang, who joined the Xiamen Nanyin Troupe in 2015, says he chose to work in the troupe because he saw the innovative efforts made by the group members to spread knowledge of their beloved music.
Wang himself has cooperated with folk music bands, symphony orchestras and improvisational dancers, further exploring the possibilities to vitalize the ancient music.
"The troupe has combined the old art with other forms, such as folk dance and theatrical play, and often lights up the stage with creative designs, including choreography and audiovisual effects to charm young audiences," he says.