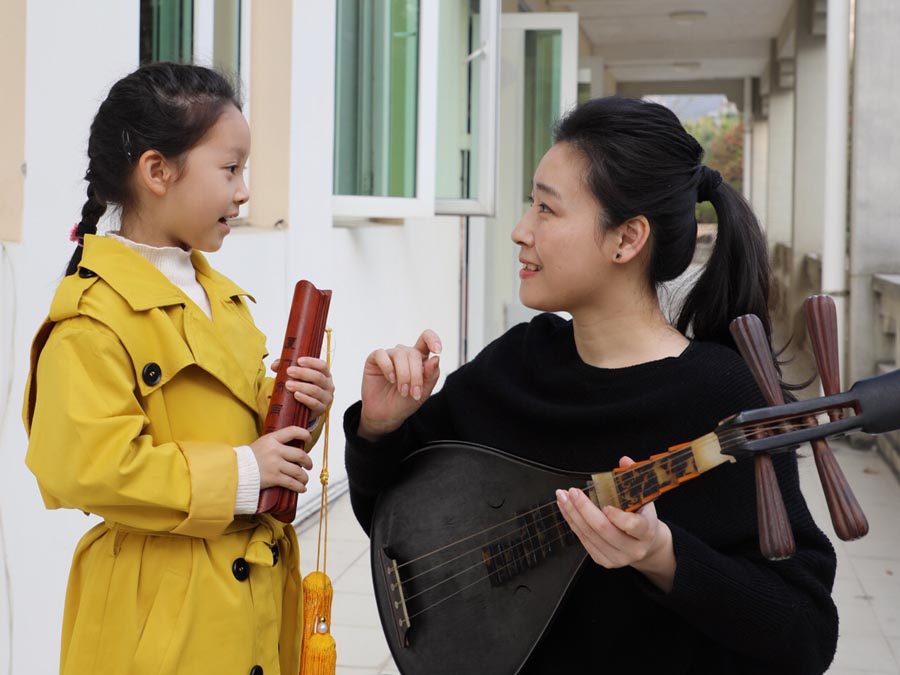 Yang Xueli, head of the Xiamen Nanyin Troupe, teaches a local girl to sing in the Nanyin style.[Photo provided to China Daily]
Cultivation base
QNU pioneered setting up a Nanyin department in its school of music and dance in 2003. It then launched a master's program on Nanyin in 2012, and was named as the only Nanyin-themed Chinese traditional culture heritage base by the Ministry of Education on Nov 28.
Zhang Yongjie, now a postgraduate on Nanyin at the university, says the courses give her a broader picture of what the music genre is and how it has evolved over the centuries. About 3,000 songs of Nanyin are passed down, as experts say.
"Now it's easier for me to understand the meaning of each song as I know its background," says Zhang. "And the teachers taught us how to convert the unique ancient music notation into modern scores, enabling us to practice and memorize the songs efficiently."
Besides academic studies, teachers and students perform on stage. Among their repertoire is a popular play titled Feng Qiu Huang (Phoenix Courting His Mate), a classic love story of the Han dynasty (206 BC-220). The play has become a hit since its debut in 2015.
"We hope that through these practices the traditional music will gain increasing popularity among young people," says Yang Yajing, 28, from the musical cast, a doctoral student at Xiamen University who got her master's from QNU in 2017.
Baton takers
"My grandfather, a Nanyin enthusiast, usually hung the instruments on the wall. He hoped the younger generation could carry forward the cultural treasure," Yang recalls. "Now it's time for me to try my best to live up to his expectations."
Hong Xiaoxia has been a music teacher for 10 years since graduating from QNU, and influenced many youngsters with her passion. She ran an extracurricular Nanyin class for students shortly after she became a music teacher at a primary school in Jinjiang, Quanzhou, and soon acquired a good reputation as her students won awards in Nanyin competitions.
"My experience in learning and teaching Nanyin has brought me a wider career platform. I hope my pupils could also contribute to passing down the music and at the same time benefit from it," says she, adding that six of her former students have followed in her steps and enrolled in the Nanyin department of QNU.
"Many of our graduates teach music in primary schools," says Chen Enhui, 35, deputy director of the Nanyin department at QNU, who was among the first batch of the university's 20 Nanyin-major graduates.
According to Chen, there are 14 postgraduates and over 200 undergraduates from QNU who now work in various fields related to Nanyin preservation and inheritance.
Contact the writer at xingwen@chinadaily.com.cn