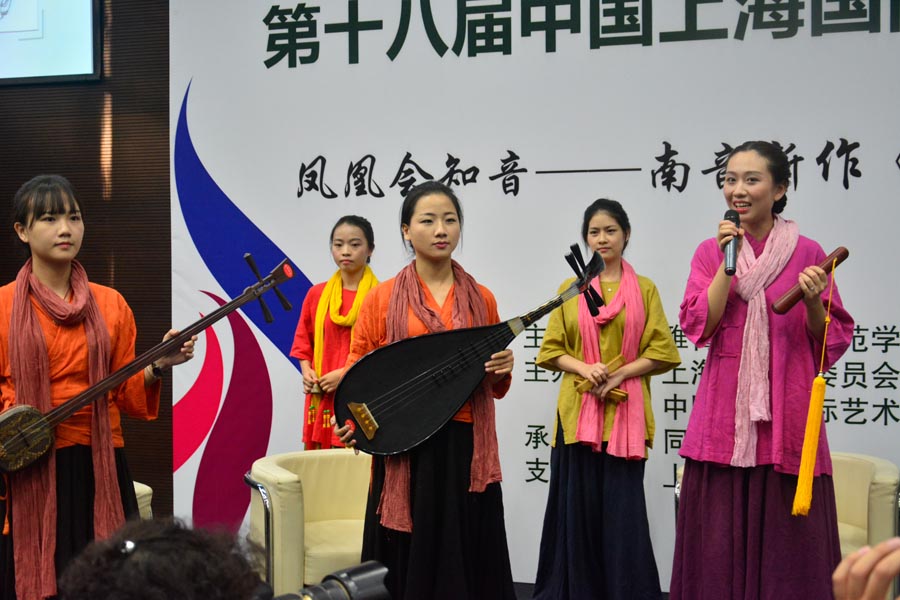 Yang Yajing (first from right) performs with her students at an event in Shanghai.[Photo provided to China Daily]
Charms at the start
Cai Qingya got to know about Nanyin's musical allure when she was just 9 years old.
From Xiangzhi town in Quanzhou, Cai, led by her music-loving grandfather, often went to an activity center where an amateur Nanyin performer gave free music lessons.
"About 30 kids sat in the class, learning to sing the tunes and play the instruments. My grandpa asked me to join in, and I did so," recalls Cai, now 22, who majored in the genre at QNU.
Cai entered contests and other activities.
"My parents would prepare beautiful costumes for me and my tutor would help me to rehearse over and over again. I cherished each opportunity to take the stage and perform," says Cai, who later studied at Peiyuan High School and performed with the school's ensemble at events in China and overseas, including a festival in Indonesia.
Yang Xueli, head of the Xiamen Nanyin Troupe, a leading municipal troupe specialized in Nanyin music, says it's best to learn the art when young.
"Most of our troupe's newcomers have learned the music from childhood," says Yang, 45. "It's better to sow a seed of Nanyin in the children's hearts."
According to Yang, a number of primary and middle schools such as Quanzhou's Peiyuan High School and Xiamen's Guoqi High school offer Nanyin classes.
Yang, an award-winning performer, says the municipal troupe also often sends its veteran performers to tutor students in training courses at local schools and conduct workshops and summer camps for young enthusiasts.