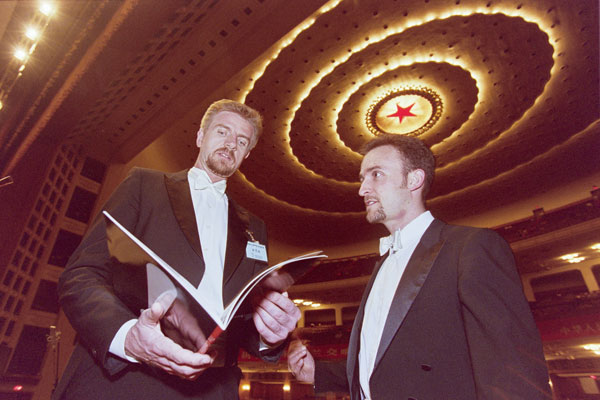 Cleveland Orchestra violists Richard Waugh (left) and Mark Jackobs on tour in China in 1998. [Photo provided to China Daily]
The NCPA has a fond farewell in store for Cleveland Orchestra's tour of China, as it plans to webcast key performances live from Beijing, Zhang Kun reports.
The Cleveland Orchestra will conclude its China tour with two concerts at the National Center for the Performing Arts in Beijing on Friday and Saturday.
Led by music director Franz Welser-Most, the orchestra-hailed by The New York Times as "America's finest" and by USA Today, which says "better performances don't exist", will present in Beijing Strauss' Ein Heldenleben, Prokofiev's Symphony No 3, and Tchaikovsky's Symphony No 5, as well as Beethoven's Emperor Piano Concerto No 5 with soloist Daniil Trifonov.
The program has been selected to "present a range of repertoire that showcases the orchestra's abilities and lets the artistry of this ensemble really shine", Welser-Most says.
"It's been over two decades since the Cleveland Orchestra last appeared in China-and we are thrilled to return to a country that is now one of the most important music markets in the world and to perform for audiences that are so enthusiastic and appreciative of classical music," says Andre Gremillet, president and CEO of the Cleveland Orchestra. "Performing in China in 2019 is important to renew our acquaintance with the many enthusiastic and new fans of classical music, and also perhaps in new concert halls that are attracting the passion and interest of these growing audiences."
The concerts will be webcast live across China and the world for free on the NCPA's website. Afterward a free video of the concert will also be made available to download.