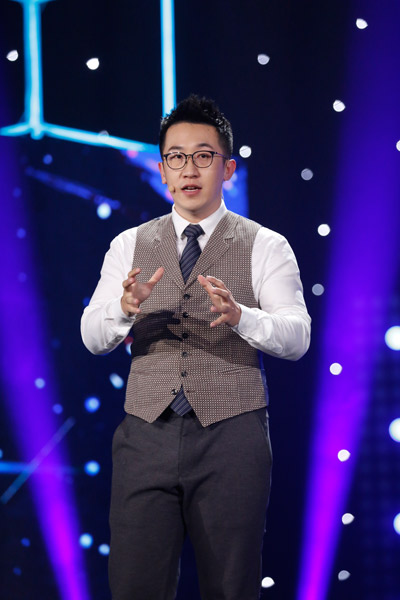 Yuan Shuo gives a speech at the online program, Star Talks, organized by Tencent in December. [Photo provided to China Daily]
A tour guide at the National Museum of China is becoming popular through his approach to artifacts, Wang Ru reports.
People listen carefully to a tall man as he introduces ancient China to them-and they occasionally burst into laughter.
As a tour guide at the National Museum of China, Yuan Shuo has become popular since he started providing knowledge about the exhibits in his own style, under the online name "Hesenbao". Yuan has more than 3.84 million followers on Sina Weibo, China's Twitter-like platform, and he has presented four paid lectures on Zhihu, a Chinese knowledge-sharing website, with one such talk attracting 8,470 people.
Yuan, who is responsible for telling museum visitors about the political, economic, cultural, military, diplomatic and scientific aspects of ancient China, says he wants to communicate a "real feeling of that history", which is why he wants to explain things, including cultural elements, in a scientific way.
For example, while explaining the custom among some ethnic groups during the Southern and Northern Dynasties (420-581), where a woman usually married her husband's brother if her husband died, Yuan says he uses more contextual references than putting one cultural view against the other, or the common argument of the "lack of morality".
Yuan, 31, cites an explanation by Gao Kai, a professor at Zhengzhou University in Central China's Henan province.
"Gao found out that due to geographical conditions in the places where the ethnic groups lived, people didn't have enough zinc in their diets, which led to high death rates of pregnant women. As a result, any healthy woman who could give birth was viewed as precious to a family. Therefore, the custom was developed to carry on the family line," Yuan says.
"By explaining the problem in a scientific way, you can hit the nail on its head. People can do research to find out the impact of zinc on human embryo and either prove or disprove this explanation."
Yuan, who started to learn fist-fighting in childhood, says "you must show real competence in fighting and any virtual thing is of no use". He says he believes that experience influenced his opinion of history and he does not like "mystical and empty explanations of cultural phenomenons" as well, and would rather use reason for any explanation.
"I believe science is the grounding of all culture," says Yuan.