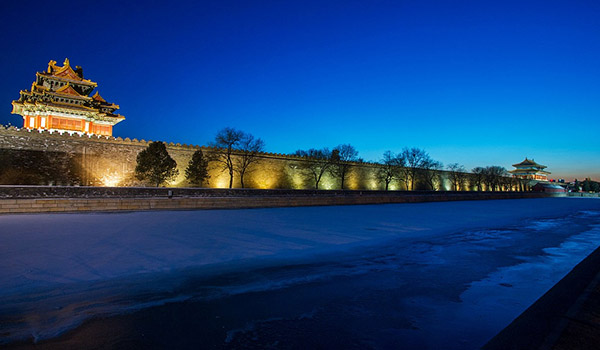 Night view of the Palace Museum's turret after snow in Beijing, February 8, 2014. [Photo/CGTN]
During China's Lantern Festival in two days, the Palace Museum will allow late-night visits for the first time, according to the museum's website.
The main locations open to the public will be the Meridian Gate exhibition hall, the Gate of Supreme Harmony, the East Wall, the Gate of Divine Might and other areas of the Palace Museum.
The Palace Museum announced on its official website on Sunday that the "Lantern Festival night in the Forbidden City" will be held for two consecutive nights on February 19 and 20.
Because the ancient buildings in Beijing are mainly made of wood, in recent years, according to the Beijing Daily, there have been no Lantern Festival events held in the cultural protection departments. This year, the Palace Museum will break with "tradition."
The event is the first time in the Palace Museum's 94-year history that it will be open to the public for free at night, and the first time that the ancient buildings in the Forbidden City will be lit on a large scale at night.
According to the announcement, visitors can enjoy the magnificent view of the lit-up Meridian Gate before going through. Then, they can go up to the Meridian Gate tower and visit the exhibition of "Celebrating the Spring Festival in the Forbidden City."