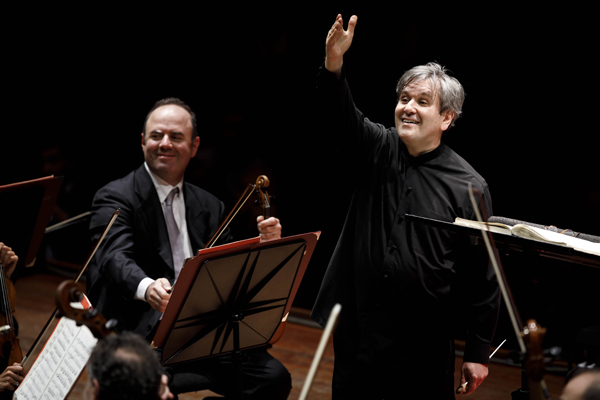 Conductor Antonio Pappano (right) leads the Orchestra dell'Accademia Nazionale di Santa Cecilia in a weeklong China tour through Nov 29. [Photo provided to China Daily]
Italian orchestra gives a taste of opera and symphony
Orchestra dell'Accademia Nazionale di Santa Cecilia, a Rome-based symphonic orchestra led by conductor Antonio Pappano, is offering Chinese audiences a mix of opera and symphony.
Santa Cecilia, founded in 1908, was the first Italian ensemble to dedicate itself to symphonic repertoire instead of opera. The orchestra began its weeklong Chinese tour in Hong Kong on Thursday, and will perform two concerts in Beijing next week on Tuesday and Wednesday.
The orchestra's repertoire comprises musical programs with strong emotional contrast: Russian composer Rachmaninoff's Piano Concerto No 3 and Beethoven's classical pieces.
Learn more here.
If you go:
7:30 pm, Nov 27/28, Concert Hall, National Center for the Performing Arts, 2 West Chang'an Avenue, Xicheng district. 010 -6655-0000.
Tickets: 180 - 880 yuan