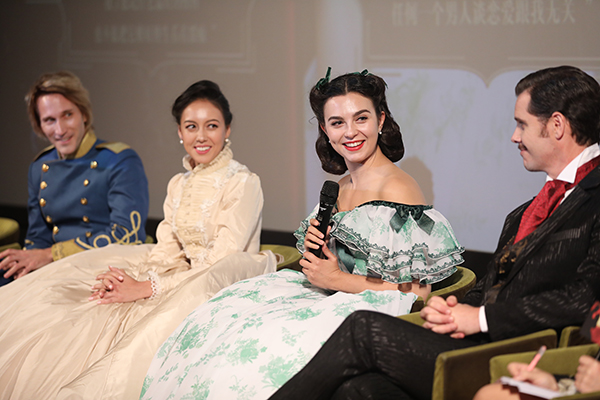 The actresses and actors of a new musical version of Gone With the Wind talk about the production at a Beijing news conference on Nov 1. [Photo provided to China Daily]
Beijing prepares to be blown away by US Civil War classic


The world premiere of an English-language musical version of Gone With the Wind is expected to land in Beijing on Nov 30.
Based on the original French version of the musical, entitled Autant emporte le Vent, in which both lyrics and music were written by the French musical writer Gerard Presgurvic and which premiered in Paris in 2003, the new musical version is a collaboration between the composer Presgurvic and the Beijing-based company Joyway.

Set against the backdrop of the American Civil War in the 1860s, the musical follows the life changes of the main characters, Scarlett O'Hara and her lover Rhett Butler.
If you go:
7:30 pm, Nov 30 - Dec 9 (no performance on Dec 3); 2:30 pm, Dec 1/2; 2 pm, Dec 8/9.
Beijing Exhibition Center Theater, 135 Xizhimen Waidajie, Xicheng district. 010-6835 1383/5796 0183
Tickets: 180 - 1,080 yuan ($25-155)