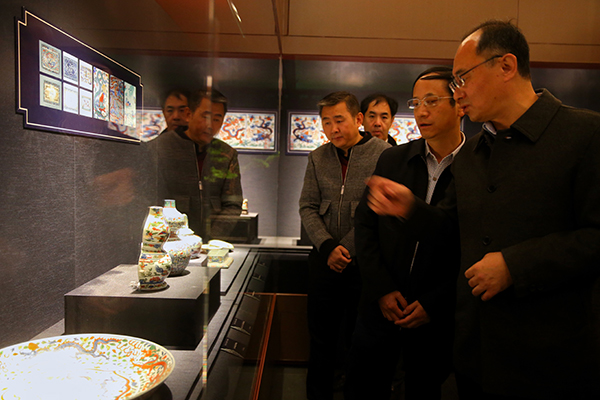 Lyu Chenglong (first right), a porcelain researcher at the Palace Museum, introduces exhibits to visitors. [Photo by Jiang Dong/China Daily]
A policy decision by Emperor Longqing influenced China's communication with the world. Although he ruled for just five years, he lifted a longtime official ban on overseas trade shortly after taking power.
"That gave different civilizations a chance to communicate with each other through the marine trade route," Gu Yucai, deputy director of the State Administration of Cultural Heritage, said at the opening ceremony of the exhibition on Nov 6.
"That reflects the inclusiveness of Chinese culture, and, more importantly, influenced the handicraft industry of other countries."
Gu said porcelain ware from Wanli's reign was later widely used by foreign studios as models to make colorful ceramics, as a result of the open trading channels.
Contact the writer at wangkaihao@chinadaily.com.cn
If you go
Through Feb 22 (Mondays closed)
Jingren Gong (Palace of Great Benevolence), Palace Museum, 4 Jingshan Qianjie, Dongcheng district, Beijing
Opening hours: 8:30 am to 5 pm (entry stops at 4:10 pm)
For entry tickets to the museum, reserve online via the official site en.dpm.org.cn. Each ticket costs 40 yuan ($5.8), with no extra charge for the exhibition.