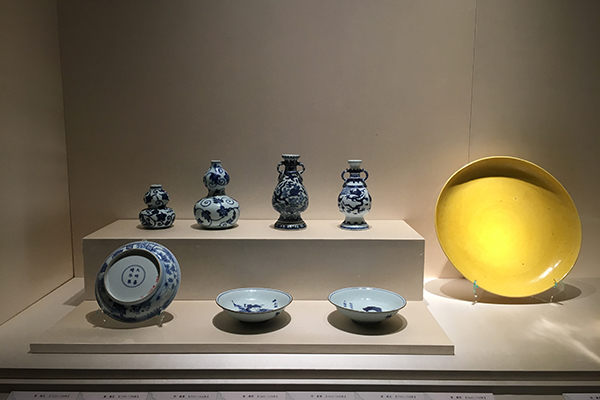 Nearly 300 royal porcelain artifacts from late Ming Dynasty are displayed in the Palace Museum in Beijing at an ongoing exhibition. [Photo by Jiang Dong/China Daily]
The final edition of a long series of exhibitions focuses on Jingdezhen, Jiangxi province, later dubbed the 'ceramic capital of China', Wang Kaihao reports. Wang Kaihao
The Palace Museum, also known as the Forbidden City, is showcasing porcelain ware of the Ming Dynasty (1368-1644), a period considered among the best in Chinese ceramic-making.
The ongoing exhibition in Beijing, titled Imperial Ceramics and Porcelain of the Great Ming: Comparison of Excavated and Extant Ceramic Pieces from Jiajing (1522-66), Longqing (1567-72) and Wanli (1573-1620) Reigns, is the sixth and final edition in a series of similar displays over the past three years.
It opened for public viewing on Nov 6 and will run through Feb 22.
The 298 exhibits from the former palace's royal collections and archaeological discoveries from Jingdezhen, Jiangxi province, will give visitors a panoramic view of the styles of porcelain ware created over the course of a century and also portray a general picture of changes in society during imperial times.