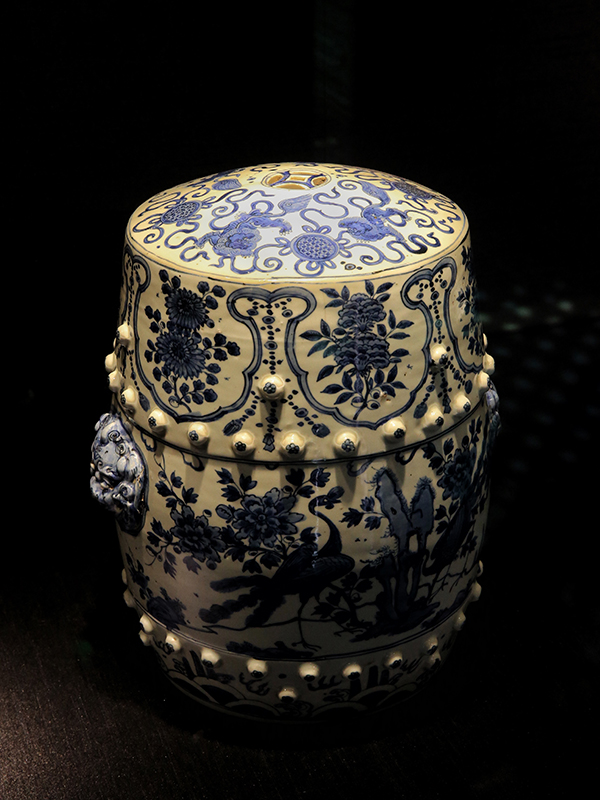 A blue-and-white porcelain item typical of the time. [Photo by Jiang Dong/China Daily]
In 1369, a year after the start of Ming rule, a porcelain kiln was set up in Jingdezhen, which exclusively served the royals. Later the city would be dubbed the "ceramic capital of China". Only the best products were taken to the Forbidden City, and the defective ones were broken and buried on site in Jingdezhen.
Similar and even identical artifacts have been discovered among kiln relics in Beijing and from Jingdezhen, giving scholars research material for comparative studies.
"We want to tell the vivid stories behind the cultural relics," Shan Jixiang, director of the Palace Museum, says, adding that the ongoing exhibition is able to display a wide range of items and demonstrate their association with society.
Shan says by presenting the latest achievements in archaeological research, the exhibition series has gone beyond academia and into the public domain.
The exhibits show the evolution of ceramics during the three reigns and the rigid criteria in selecting royal artifacts at that time, says Lyu Chenglong, a porcelain researcher at the museum.
From the iconic blue-and-white porcelain items, to others in single bright colors, which were established in previous reigns, to new shapes with images of dragons and other totems, many of the series' exhibits are rarely seen treasures. More colorful artifacts-the most recognized feature of porcelain in that era-began to appear between the Jiajing and Wanli reigns.