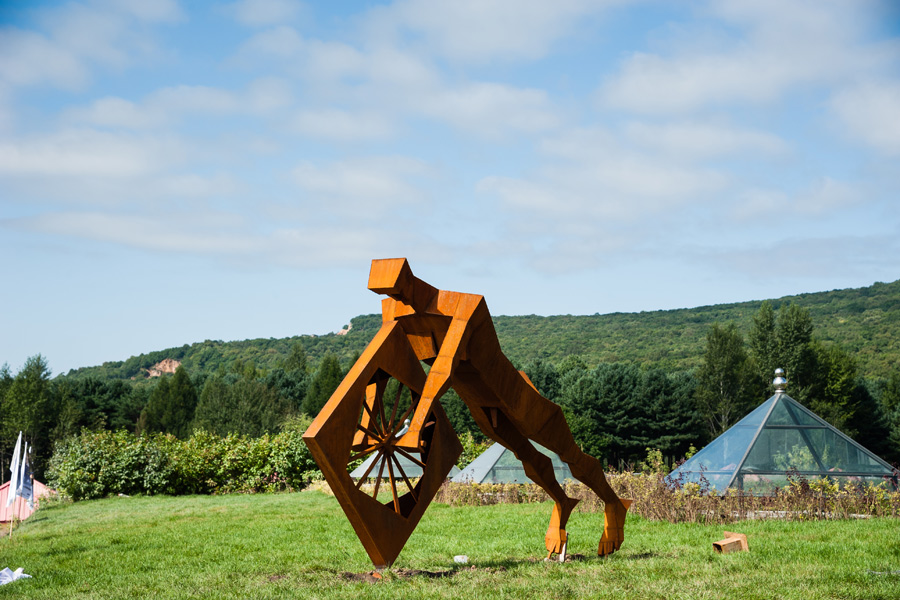 Artworks fill a spacious park in Tonghe county, three hours' drive east of Harbin, the capital of Heilongjiang province. Made of marble, steel, granite or forged copper by artists of the International Sculpture Symposium Alliance, the works touch on universal themes including nature, environmental conservation, the arduous journey of life and childhood innocence. [Photo provided to China Daily]
A fresh attraction
As a small county located inland, and where the natural beauty comprises the majority of its tourism resources, it's rare for Tonghe to host an international cultural exchange program of this scale.
According to Liu Yang, an international sculpture symposium is both an economic and efficient way to add and promote art and culture to the public.
Additionally, it's a good way to balance the social service function of public sculpture and their artistic and aesthetic significance, because the artists face less restrictions.
A local resident, surnamed Huang, together with his daughter, aged 12, drove for 20 minutes from downtown Tonghe, to wander around the unfinished sculpture park, stopping often to take photos.
He said that many of the locals had learned about the symposium via the local newspaper and television programs, and he brought his daughter because they seldom had the chance to visit museums or galleries and to see modern art.
The artists and the local government are working to make the sculpture park more appealing to locals and tourists alike.
According to Cao Deyou, the county magistrate, restaurants, accommodation and other support facilities will be built nearby in the near future.
He is optimistic that more people will come from further afield, as the high-speed railway is under construction and as the cultural significance of the park continues to grow over time.
Cao adds that the local government is also putting effort into making the sculpture park a suitable place for school children and college students to embark upon extracurricular educational activities.