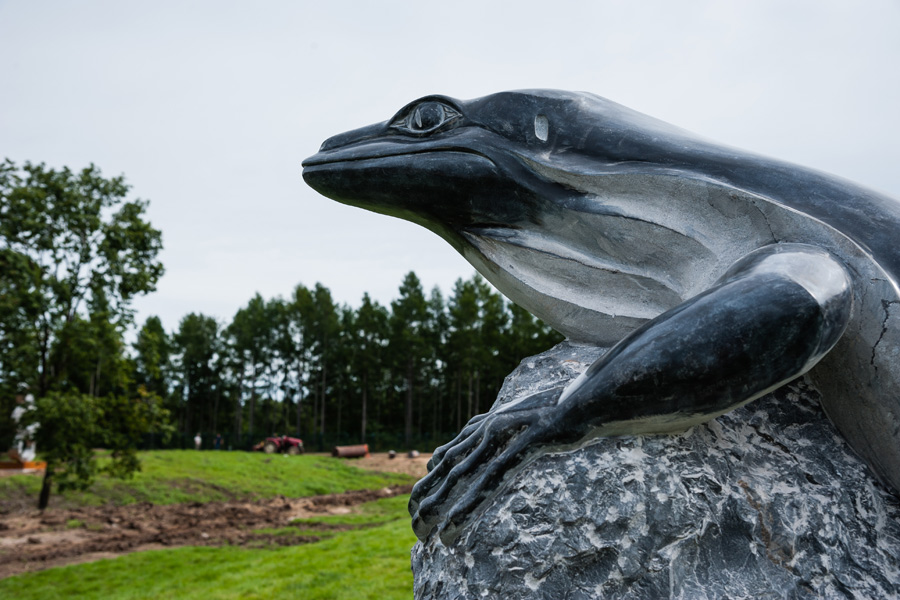 Artworks fill a spacious park in Tonghe county, three hours' drive east of Harbin, the capital of Heilongjiang province. Made of marble, steel, granite or forged copper by artists of the International Sculpture Symposium Alliance, the works touch on universal themes including nature, environmental conservation, the arduous journey of life and childhood innocence. [Photo provided to China Daily]
This year's participants of the Tonghe symposium come not only from countries like Italy, Japan and Egypt that have a long tradition of cultural exchanges with China, but also Morocco, the Republic of Montenegro, Uruguay and other lands that are lesser known to the locals.
Darko Pajovic, the Montenegrin ambassador to China, considers the symposium a benefit, both for the people of Tonghe and the artists.
"There is no better way than art to connect people and to complete a peaceful mission," Pajovic says. He was granted the status of an honorary member of ISSA during the symposium.
Liu is now in Russia, attending another international sculpture symposium.
There was a time when he was content to just travel and create his sculptures around the world, with an ambition to have his work housed on all the major continents.
Now, however, he feels he has a more altruistic purpose. As the ISSA grows larger, he has become aware of his duty to build up a mechanism that is able to sustain the alliance in the event of his absence from it.