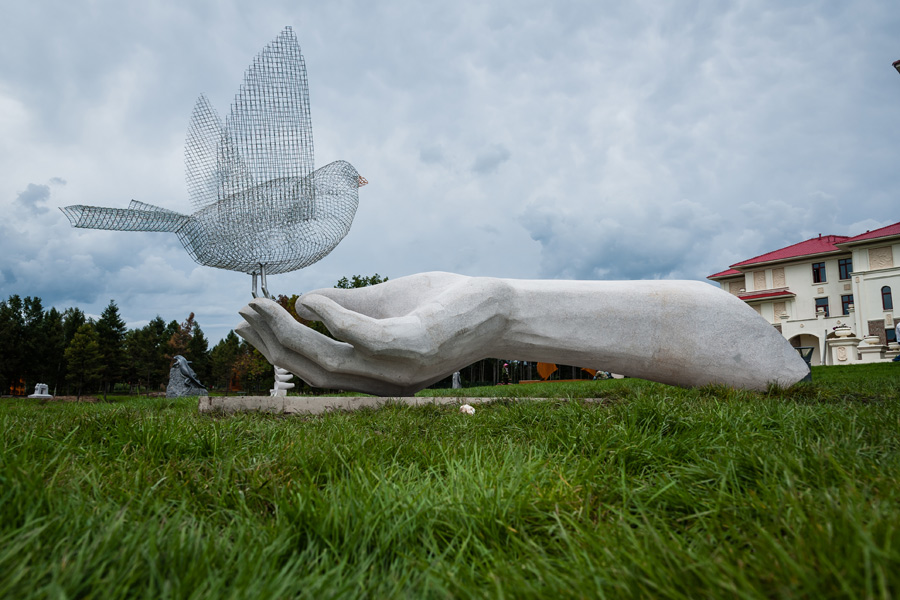 Artworks fill a spacious park in Tonghe county, three hours' drive east of Harbin, the capital of Heilongjiang province. Made of marble, steel, granite or forged copper by artists of the International Sculpture Symposium Alliance, the works touch on universal themes including nature, environmental conservation, the arduous journey of life and childhood innocence. [Photo provided to China Daily]
Gypsy sculptor traditions
The artists are members of the International Sculpture Symposium Alliance, a noncommercial international organization that is dedicated to promoting exchanges among sculpture symposiums worldwide.
Since its founding in 2012, the ISSA has been connected with 71 symposiums in 40 countries and regions, covering Asia, Europe, Africa, the Americas and Oceania.
The tradition of these gatherings dates back to 1959, when Austrian sculptor Karl Prantl initiated the movement to bring together East European artists that were working in isolation during the Cold War.
This kind of cultural event-where the public are able to watch artists creating a sculpture and engage in a dialogue with them-then became very popular in many towns and cities around the world.
"Cultural exchanges are the nature of international sculpture symposiums," says Chinese sculptor Liu Yang, founder and secretary-general of the ISSA.
"We usually focus on our own sculptures during the day and catch up with one another during the evening. To get around the language barriers, we tend to communicate more with our work."