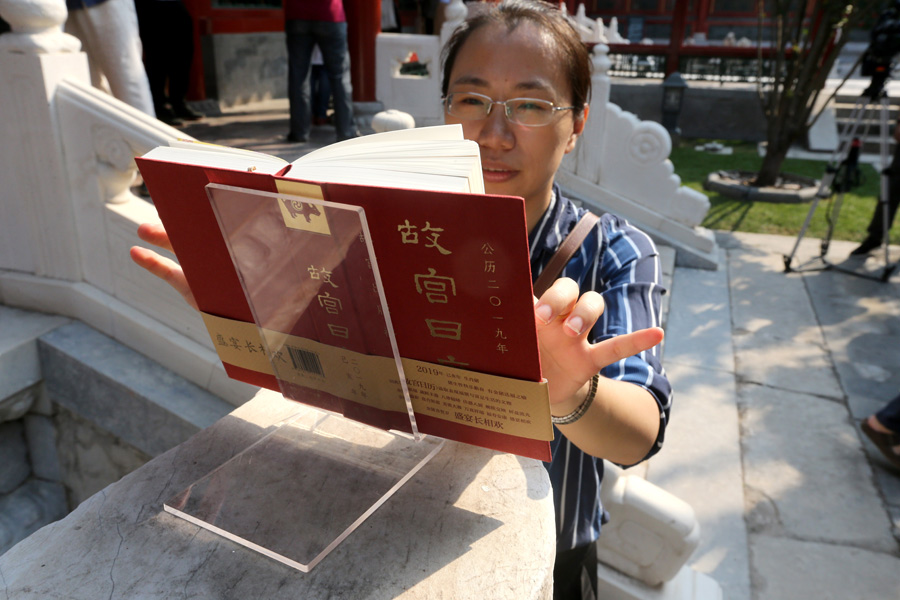 The Palace Museum is releasing a new calendar to welcome the Year of the Pig and promote its collections. [Photo by Jiang Dong/China Daily]
There are still a few months to go before 2019, but the Palace Museum in Beijing, also known as the Forbidden City, has already begun its campaign to welcome the Year of Pig by releasing a new calendar on Monday.
This will the 10th year in a row that the Forbidden City Publishing House, which is affiliated to the museum, has released a calendar, one of its most sought-after souvenirs.
Each page of the calendar promotes one collection from the museum, China's former imperial palace, with pictures and text.
The Palace Museum is home to 1.86 million cultural relics, and 42 percent of the country's total "registered national-level key cultural relics" are held by the institution.
"The 365 representative artifacts (in the calendar) represent each day of the year," says Chen Lihua, the editor-in-chief of the calendar. "But choosing them was not easy."
The editors had to pick the artifacts from a large inventory and hand in the pictures of 700-odd artifacts for a final round of selection.
Appearance was a key requirement and the items being chosen also had to match certain themes.
"The artifacts also needed to showcase auspicious signs," says Chen.
Each month of the calendar focuses on one type of artifact.
For example, August looks at royal boxes which were picked as "box" (he) in Chinese sounds like the word for "harmony", which is the foundation of a happy family.
The December page covers paintings of a royal banquet to indicate wishes for prosperous life.