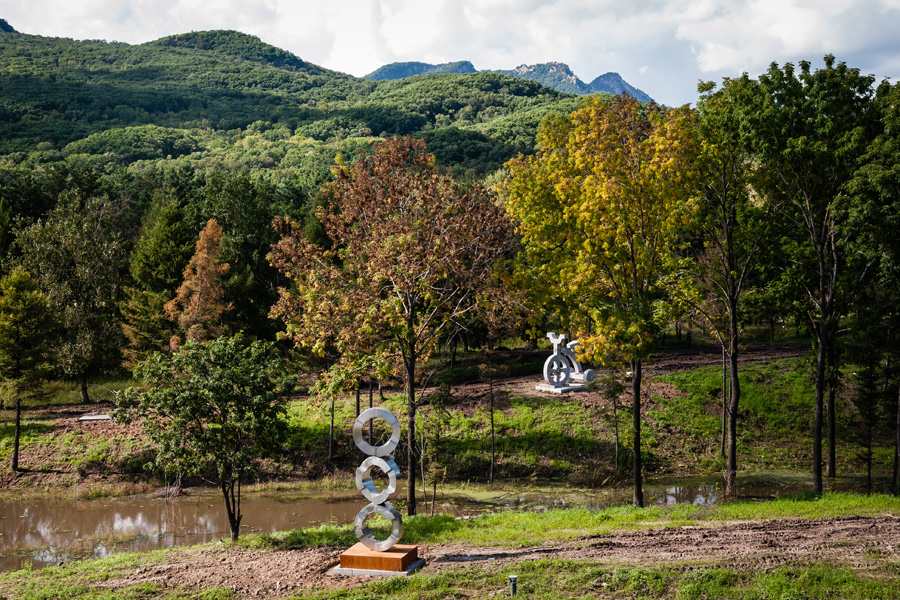 Artworks fill a spacious park in Tonghe county, three hours' drive east of Harbin, the capital of Heilongjiang province. Made of marble, steel, granite or forged copper by artists of the International Sculpture Symposium Alliance, the works touch on universal themes including nature, environmental conservation, the arduous journey of life and childhood innocence. [Photo provided to China Daily]
A Tonghe adaptation
Tonghe county is about three hours' drive east of Harbin, the provincial capital of Heilongjiang.
Built on an abandoned farm, the sculpture park lies on the route from downtown Tonghe to the Huazi Mountain area, one of the most important tourist spots in the county.
It's the second year that Tonghe has welcomed international artists to attend a short symposium and contribute their wisdom to the construction of the sculpture park, which sits, picturesquely, among trees, fields and mountains.
Traditional or modern, visualized or abstract, this year's artworks-made of black marble, steel, granite or forged copper-largely depict universal themes including nature, environmental conservation, the arduous journey of life, as well as childhood innocence.