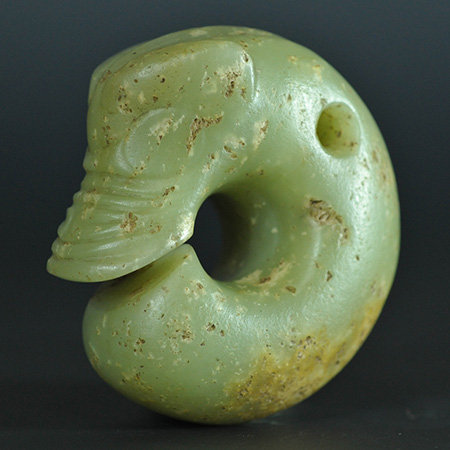 The C-shaped pig-dragon is closely linked to the primitive beliefs of the Chinese. [Photo provided to China Daily]
Naturally, the image also implied authority. One mace topped with a jade boar head that was discovered is believed to have belonged to a powerful man about 5,000 years ago.
But things gradually changed.
Carved bricks from Han tombs were inscribed with vivid descriptions of pigs being carried to the slaughterhouse. Another find is a Han-era clay figurine of a kneeling cook preparing pork for a banquet.
Starting in the following era, pigs were portrayed as they're thought of today.
A smooth jade pig carved out of the best material of its kind in the third century is portrayed smiling. It looks round and contented, happy and harmless.
Although most people on the planet raise pigs and consume pork, there are very few places outside of China where the creature is so deeply embedded in the culture.
Take its presence in the pantheon of the Chinese zodiac animals. (The preceding ones, in order, are the rat, ox, tiger, rabbit, dragon, snake, horse, sheep, monkey, rooster and dog.)
The zodiac doesn't just measure time.
Like the C-shaped pig-dragon, it reflects a way of thinking, a cyclical way of seeing the universe and life-this one and the next.
During the Han Dynasty, people believed that a person should be treated the same in death as he or she was in life-hence, the jade cicadas and pigs.
But jade pigs were often found near corpses' forearms or hands rather than in their grips.
"Perhaps the hands of the deceased couldn't hold it," he says.
"However much wealth people command, there always comes a time when they have to let go of it."