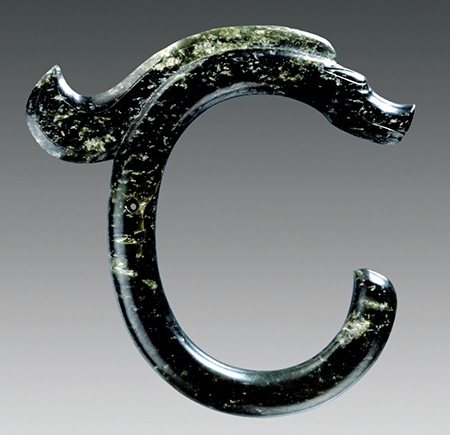 The C-shaped pig-dragon is a symbol of Chinese civilization. [Photo provided to China Daily]
One prominent example is the C-shaped "pig-dragon".
The jade pig-dragon was usually meticulously polished. Many have been found in what is today northern and northeastern China. The creature with an elongated body and flowing mane resembles a dragon-Chinese people traditionally call themselves descendents of the mythical, rain-producing, supernatural being-with a protruding snout.
Historians debate the snout's origins, Zhejiang Provincial Museum researcher Shi Chao says.
"Opinions differ, but most believe it may have something to do with the wild boar, which also later appeared on the belt buckles of nomadic men, who roamed the vast Eurasian steppe," Shi says.
"The boars (on the belt buckles) were often portrayed as being locked in combat with a ferocious predator, such as a tiger or lion.
"Pigs, as we know them today, are often associated with inertia. But their ancestors are anything but slow. The wild boar is vigilant and occasionally violent. It may have impressed ancient Chinese enough that they made it their totem.
"The pig-dragon curls into a circle, except for an opening between its head and tail. Ancient Chinese believed this breach could open the cycle of their mundane existences to another, celestial world."
The C-shaped pig-dragon dates from around 4000 to 3000 BC. It has long been associated with the birth of Chinese civilization and has remained a symbol until today.
Images of pigs and wild boars were incorporated into primitive belief systems as far back as the Neolithic period, archeological discoveries show.
A lot of jade wear featuring porcine imagery from this period is believed to have been used by sorcerers in sacrificial ceremonies, Ding says.
"Such rituals were so central to ancient people's lives that the inclusion of these items speaks volumes," Ding says.
A boar-shaped bronze utensil unearthed in Central China's Hunan province offers further proof, Shi says.
The bronze ware dates to around the 10th century BC. Bearing in mind that productivity was limited at that time, almost all bronze wares, which usually featured extremely sophisticated patterns, were made for use during important occasions, such as when people prayed for rain."
The bronze boar was probably a liquor container. A bird is perched on the part of its back that serves as a lid. Both sides of its body are covered in armor patterns.
The animal has bulging eyes, sharp fangs and spiky bristles. It's a fighter whose wild beauty resonated with the unbridled imagination of its time.
"Similar images were also used as prototypes for clay vases or were sketched on the pottery dating back to the Neolithic," Shi says.