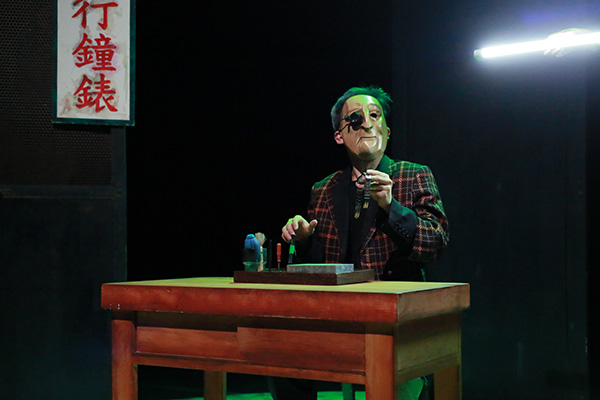 [Photo provided to China Daily]
He also studied about leather masks while living in Paris.
Speaking about this art, he says: "I love mask-acting, because then I can no long use facial expressions to act, but have to involve our bodies.
"I started making masks because I wanted to challenge myself, and because I also wanted to learn more about masks, so I can help actors to develop their bodies.
"I also wanted to create a set of masks for Asian actors, as most of the expressive masks are in a Western style," he says.
So far, with a group of 20 creative actors from mixed backgrounds, whose average age is 25 or below, the theater has created five theater performances, and two dance performances, which tour internationally.
Papa is the theater's first nonverbal mask show for all ages, and the director wants to show that the theater has dimensions and that there is not just one way to communicate with audiences.
One of their productions, L'Orphelin 2.0, which is based on The Orphan of Zhao, one of China's oldest plays, and the first to be translated into a European language, will be staged at Tsinghua University in Beijing on May 19 and 20 in Mandarin with Chinese and English subtitles.
Speaking about his work, Wong says: "To me, physical theater is an actor-training and creative method, it is not a performance style.
"We train actors to use their bodies to tell stories, and it is applicable to different art forms. Physical theater doesn't have to be something abstract," he says.
If you go
Papa
7:30 pm, April 30 and May 1.
9 Tianqiao Nandajie, Xicheng district, Beijing, 400-635-3355
chennan@chinadaily.com.cn