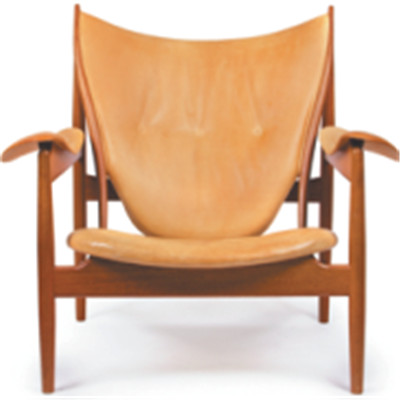 Chieftain Chair (1949). [Photo provided to China Daily]
His designs on display include the Cheiftain Chair, which is often referred to as the "Mona Lisa chair" because of its breathtaking beauty; the Spade Chair, which is so popular that it appeared in Dr. No (1962), the first James Bond film; and the Elizabeth Chair, named after the British monarch who bought it as part of a furniture set while visiting Denmark in 1958.
Messerschmidt says modern Danish designers have attempted to free furniture designs from rigid traditions. They believe the designs of articles such as chairs should be creative and functional, so that they both enliven people's daily lives and are useful.
When his parents married, Messerschmidt says, they went to designers for a customized collection of furniture, which he enjoyed during his youth. It is not uncommon in Denmark for people, not just the rich but even middle-class families, to acquire furniture and pass them down over generations.
He says people can say Danish design celebrates the beauty of simplicity, but an object as common as a chair can be an assembly of smart ideas.
The exhibition also displays Wegner's Valet Chair, the back of which was crafted into the shape of a hanger and the seat can be used as a container. His Chinese Chair is also displayed. Wegner borrowed the elements of classic Ming-style furniture, such as the broad, arched back of chairs.
The chairs on display in Beijing are placed on wooden shelves.