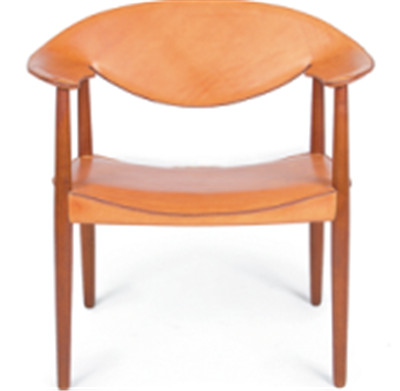 Metropolitan Chair (1959). [Photo provided to China Daily]
In 1960, when John Kennedy and Richard Nixon participated in one of their televised presidential debates, two chairs present in the recording studio wasn't of much value to the viewers.
But a year ago, the same chairs designed by Hans Wegner were hailed by the Museum of Modern Art in New York as among the best designs of the 20th century. Denmark-born Wegner, who died in 2007, was a leading figure in the world of furniture design. He had once said: "A chair is to have no backside. It should be beautiful from all sides and angles."
The chairs Wegner designed reflected his words. The one used in the Kennedy-Nixon debate has been considered by many art historians as being perfect. It is made of teak and can be easily lifted with one hand. Its back, seat and legs are connected by mortise and tenon joints.
Chairs constitute a notable part of Wegner's oeuvre. A selection of his designs from the 1940s and '50s, including the Kennedy-Nixon debate chair that was designed in 1950, are on display at The Art of the Chair, an ongoing exhibition at the Danish Cultural Center, in the 798 art area of Beijing.