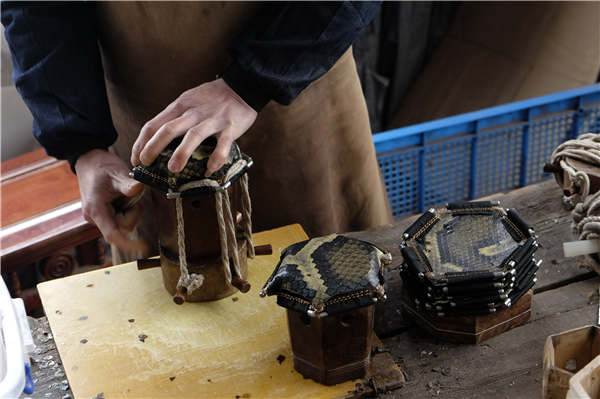 Gu Yue, a well-known company in Wuxi that produces erhu, is home to dozens of middle-aged artisans who painstakingly assemble each erhu by hand. [Photo by Alywin Chew/China Daily]
Asked why Gu Yue's erhu are considered to be in a league of their own, Bu cited his father-in-law's passion and dedication to the craft.
"He's been doing this for more than 60 years. When you've been doing the same thing for so long, you naturally become a master in the craft. He is also a perfectionist and someone who has a keen ear for music," says the 44-year-old.
"To craft a good erhu, you need more than just technical knowledge-you must also have a feel for the sound."
This "feel" that Bu mentions also extends to certain processes in the workshop.
For example, the manner in which the snake skin is treated and attached to the sound box is crucial in determining the sound quality, and this step of the crafting process can only be handled by an expert.
"I can determine what type of erhu I can make just by holding a piece of snake skin. It's all down to the feel. Every piece of snake skin is different. Some are tauter than others. The weather also plays a big role in determining how each piece should be treated. It's hard to program a machine to identify all these factors," he says.
"Because of instances such as this, it is almost impossible to completely automate the manufacturing process."
Gu Yue currently produces about 10,000 instruments per year. Bu notes that production volume peaked in 2012 but has plateaued since. However, he expects domestic demand to pick up again in the coming years.
"The government is now pushing for schools to focus more on arts and culture. The erhu is one of the most famous traditional Chinese musical instruments. So there is bound to be increased interest in it when schools align their curriculums with the government directives," he says.