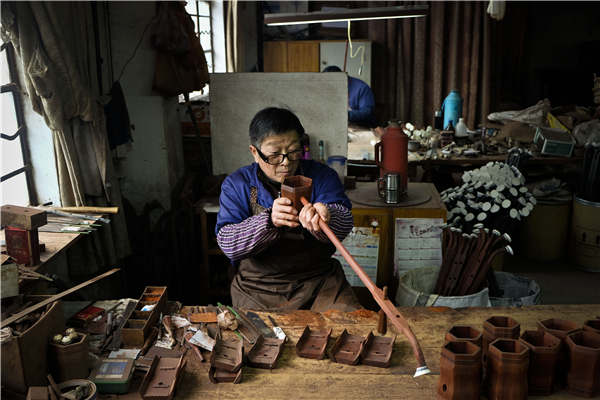 Gu Yue, a well-known company in Wuxi that produces erhu, is home to dozens of middle-aged artisans who painstakingly assemble each erhu by hand. [Photo by Alywin Chew/China Daily]
But Zhou Sujiang, a music teacher at the Wuxi Arts and Culture Institute, says that while many Chinese are captivated by the heart-wrenching and poignant sounds of the erhu, children and young adults are slow to warm to the instrument.
"There is no other instrument that can produce as melancholic and bittersweet a sound as the erhu. But young people today don't like such music. They prefer more upbeat and edgy tunes. Interest in erhu classes at the institute is dwindling," says Zhou.
Most erhu makers in Wuxi are based in Meicun, a quiet town northeast of the city center that is said to have more than 3,200 years of history as a vibrant arts-and-culture hub.
According to officials, the town's links with the erhu date back to 1965 when the first folk-music workshop was founded there.
Chen Shasha, a prominent young erhu player from Meicun, says there are now about 20 erhu makers in the town who produce a combined total of about 50,000 instruments every year, accounting for between 25 and 30 percent of the market share in China.
In December 2010, the town was given the title of "Land of Erhu Craft in Jiangsu Province" by the Jiangsu Folk Literature and Art Association. The next year, Meicun's erhu-making process was included on Jiangsu province's list of intangible cultural heritage.
Gu Yue is one of the best-known companies making the instrument in China. And the company-founded by Wan Qixing more than 60 years ago-has a factory in Meicun, which is home to dozens of middle-aged artisans who painstakingly assemble each erhu by hand.
There is no high-tech production line here, just rudimentary tools such as sewing machines, drills, saws and disc sanders.
But the rustic environment is hardly indicative of the quality of the product.
While the company sells basic erhu instruments for a few hundred yuan, it is better known for its exquisite masterpieces that fetch small fortunes.
Bu Guangjun, Wan's son-in-law, has been working as a supervisor in the factory for the past few decades. He says that one of Gu Yue's erhu sold for 180,000 yuan ($28,112) at an auction a few years ago.
According to Bu, about 40 percent of the company's instruments are sold abroad in Asian countries such as Japan, Malaysia and Singapore, while the rest are sold to domestic customers.