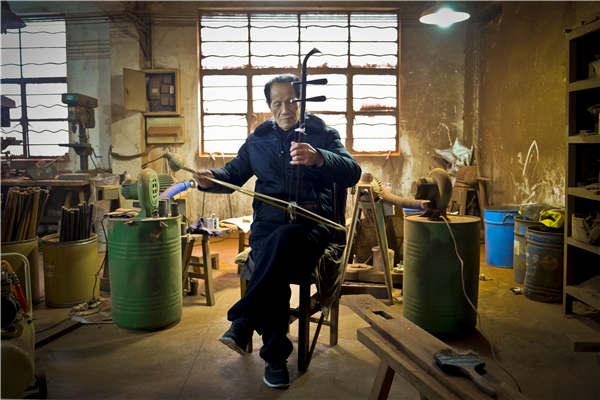 Gu Yue, a well-known company in Wuxi that produces erhu, is home to dozens of middle-aged artisans who painstakingly assemble each erhu by hand. [Photo by Alywin Chew/China Daily]
Wuxi's most famous product is one that bears a stark contrast to its sweet cuisine-a traditional Chinese music instrument that is loved for its sorrowful, melancholic sound. Alywin Chew reports in Wuxi, Jiangsu province. 
It is one of the art and cultural centers in China's Jiangnan region (the area south of the Yangtze River). So, it comes as little surprise that Wuxi's most famous product-the erhu (a two-stringed bowed instrument)-is related to the field music
Such is the city's reputation for crafting the instruments that it was officially recognized as the "Land of the Erhu in China" by the Chinese Musicians Association in October 2011.
Also known as the Chinese violin in the West, the erhu comprises a long neck with two tuning pegs located at the top and a sound box partially covered with snake skin at the bottom.
Typically made with either redwood, rosewood or black sandalwood, the erhu produces a hauntingly beautiful sound that typically evokes a sense of melancholy among listeners.
Indeed, some of the most famous tunes played on the erhu, such as Moon Reflected in the Second Spring by China's most famous erhu player, Hua Yanjun, depict this mood.
Hua, more commonly known as A Bing, was born in Wuxi in 1893, and learned how to play a variety of Chinese instruments, including the erhu, when he was a child.
He would then play these instruments as his father, who was a Taoist priest, performed religious rites.
Hua's life took a downward spiral following his father's death, and he fell prey to an opium addiction and lost sight in both his eyes after contracting syphilis.
Homeless and penniless, he took to the streets as an itinerant erhu performer, and this was ironically how he eventually came into fame.
But the erhu is more than just a local product-it is the way of life in Wuxi, at least among older folks.
Since 2013, famous erhu players from around the country have been invited to perform at the city's New Year concerts at the Wuxi Grand Theater as well as on other occasions at the Meicun Erhu Cultural Park.
One can also spot statues of A Bing and hear erhu tunes at various tourist destinations in Wuxi.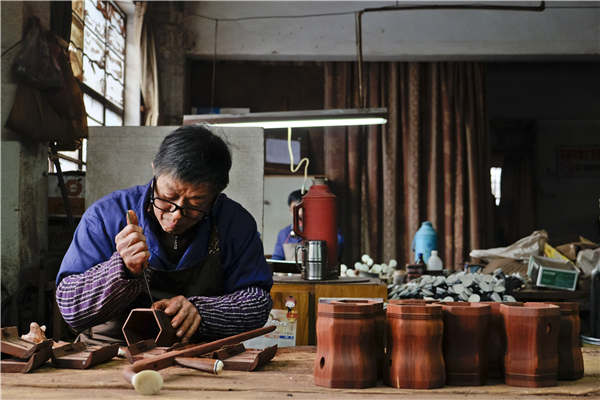 Gu Yue, a well-known company in Wuxi that produces erhu, is home to dozens of middle-aged artisans who painstakingly assemble each erhu by hand. [Photo by Alywin Chew/China Daily]