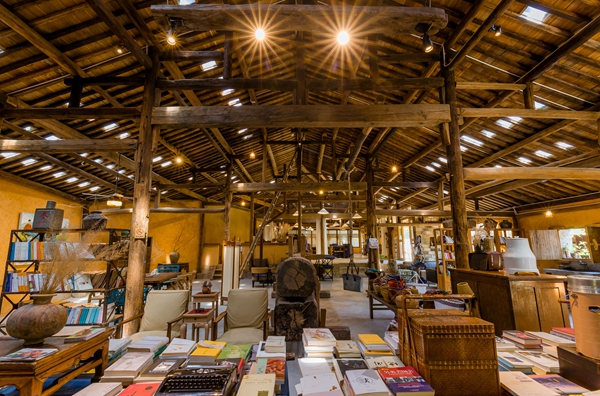 The natural surroundings and pastoral lifestyle have drawn people to Ding Muer's three rural homestays in East China's Anhui province.
The lodgings' ancient architecture, down-to-earth and hospitable villagers, straw braiding and local pastry making experiences have all been popular among visitors to Xidi and Bishan villages.
"We've been fully booked on weekends and holidays," Ding says.
Ding's mother opened their first homestay in Xidi in 2004.
"She studied arts and painted scenes of neighborhood life back then, and was impressed by the Hui style architecture and surroundings," the 27-year-old says.
Ding's three homestays are remodeled from historical buildings dating back to the late Qing Dynasty (1644-1911).
The first homestay was built above ground level, and the main frame and style have been retained.
"We invited experienced carpenters to deal with the connection of the wood without glue or nails," Ding says.
It was initially meant for Ding's family to live there and accommodate their friends from time to time.
However, more people soon made their way to the homestay. Ding says they are mostly drawn to the peace and quiet of the rural area, which is a change of pace from the hustle and bustle of the city.
In 2008, Ding remodeled 10 rooms in an old building at Bishan village, about 20 minutes' drive from Xidi.
The village was in a primitive state and more secluded than Xidi, but travelers showed even more enthusiasm.
This encouraged Ding to open the third homestay on the site of an obsolete plant in Bishan in 2014.
Trips to suburban and rural areas have become increasingly popular among urban dwellers, who usually travel with their families and friends.
Searches for accommodation in rural areas grew ninefold during the May Day holiday compared with the same period of last year, according to figures from online vacation rental site Airbnb.
More than 70 percent of Chinese tourists show strong interest in visiting rural sites with natural landscapes during spring.
Folk culture and village life have also greatly contributed to the charm of rural tourism.
The promising prospects have industry players working together to tap into the potential that these areas hold.
Airbnb, the Chinese National Committee for the International Council on Monuments and Sites, and the Tsinghua Tongheng Urban Planning and Design Institute have recently signed a memorandum of understanding to boost rural tourism.
The three parties will work together on the protection of cultural heritage sites, and explore ways to use them for rural revitalization, community empowerment and youth education.
"We are looking forward to working with Airbnb this time and using advantages of both parties to further promote cultural heritage protection and utilization," says Yan Haiming, director of the Secretariat with the Chinese National Committee for the International Council on Monuments and Sites.
The committee has focused on bringing cultural heritage into modern life and enabling the public to experience the charm of tradition and civilization.
The goal of the MOU is to explore the rich Chinese civilization history and make full use of cultural heritage with distinctive local characteristics to deliver new cultural and tourism integration.
Huangshan city is planning to ride on the wave of the rural tourism boom after the pandemic.
Wang Yingchun, deputy head of the city's culture and tourism department, says the local government has also reached an agreement with Airbnb to upgrade the quality of its homestays.
Siew Kum Hong, Airbnb China's chief operating officer, says that China's domestic tourism market recovery is accelerating and rural tourism has been favored by an increasing number of Chinese travelers.
Airbnb is planning to use its community network advantages to tap into distinctive local tours through a variety of brand activities, and initiate unique leisure time for travelers in the countryside.
"In the future, we also look forward to cooperating with local governments and relevant institutions at all levels to explore a new chapter in the development of China's tourism industry after the pandemic," Siew says.
Though weekday bookings have dropped to about 60-70 percent after the pandemic as opposed to 70-80 percent before the pandemic-which Ding says is a result of the decline in international guest arrivals, he is optimistic about the future.
"Local authorities have given us some policy support for us to run homestays, and subsidies have been offered for the protection of our local historical buildings," Ding says.
He also owed the booming rural tourism to the improving infrastructure in the villages.
"The roads have been well paved, making transportation easier from the outside," he says.
With more promotions by the local authorities in the pipeline, Ding is certain that things will surely lift off.