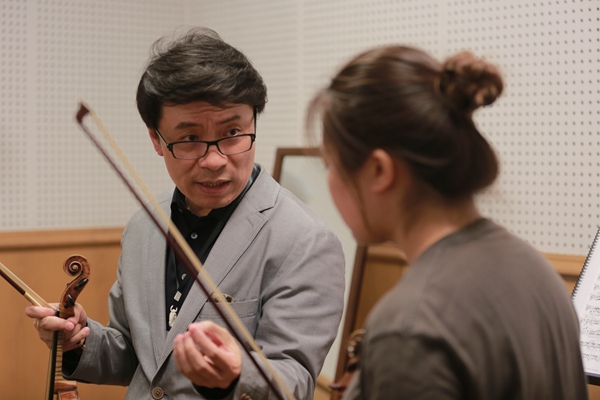 To widespread critical acclaim, the Tianjin Juilliard Ensemble gives its first performance in Shanghai, Zhang Kun reports.
The Tianjin Juilliard Ensemble gave a performance at Shanghai Symphony Hall on March 30. It was the first time that the ensemble, consisting of teachers from the new Tianjin Juilliard School, had played the venue. The group also kicked off a new collaboration with the Shanghai Orchestra Academy.
The new partnership will enable musicians from each institution to participate in the other's performances, and teachers from the Tianjin Juilliard School to give master classes at the Shanghai Orchestra Academy.
Zhang Jiemin, the conductor in residence of the Shanghai Symphony Orchestra, the founder and parent institution of the academy, will conduct her first concert with students of Tianjin Juilliard in May.
At Shanghai Symphony Hall on March 30, 10 musicians from Tianjin Juilliard School played some lesser-known pieces by German composer Paul Hindemith and Czech composers Bohuslav Martinu and Antonin Dvorak.
Shanghai-based music critic Zhang Keju praised the ensemble as "a powerful team, capable of achieving things that some outstanding chamber groups could not". He was especially impressed with the ensemble's performance of Kleine Kammermusik by Hindemith.
The combination of five wind instruments-the flute, oboe, clarinet, bassoon and the horn-"has been rare in the chamber music scene in Shanghai", Zhang Keju writes in a review published on news portal The Paper. The musicians from Tianjin Juilliard School "realized the intricate colors and sensitivity in the rhythm, which was very difficult to achieve, as Hindemith, elusive and unpredictable as a composer, used quite a distinctive vocabulary in his composition".
The flutist Gergely Ittzes played the third movement with such clarity and intricate control of the sound that "all I ever wanted was to listen to more of his playing", he writes.
Tianjin Juilliard is a branch institution of the prestigious Juilliard School in New York. A music conservatory of more than 115 years, the Juilliard School has been "synonymous to excellence", says Alexander Brose, executive director and CEO of Tianjin Juilliard School.
Conceived by Joseph W. Polisi, chairman of Tianjin Juilliard School's board of directors, Tianjin Juilliard was established in 2019, providing pre-college program for students between the age of 8 and 18, and graduate programs covering orchestral studies, chamber music and collaborative piano.
Tianjin Juilliard now has 39 graduate students, coming from 11 countries and regions, including the United States and Uzbekistan.
The pre-college section has about 90 students, who travel from all parts of China, to spend every Saturday studying on campus.
From its conception, Tianjin Juilliard School selected a faculty that is brimming with outstanding performers who are also good teachers, Brose told the media in Shanghai before the concert on March 30.
Chinese American violinist He Wei is the artistic director and dean of Tianjin Juilliard. Described by legendary violinist Dame Camilla Wicks as "a genuine artist who has boundless imagination", He has been a music teacher for 18 years, while still remaining active on stage.