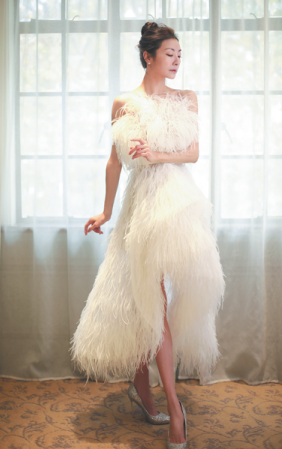 Tan Yuanyuan, San Francisco Ballet's first Chinese principal dancer. CHINA DAILY
2020 marks Tan's 25th anniversary with the company, and she said she never envisaged she would be with one company for such a long time.
She remembers some of her most eventful moments working with the company. About 10 years ago she danced the title role in the company's production of The Little Mermaid for the first time at the War Memorial Opera House stage in San Francisco, and there was a six-minute standing ovation at the end.
"That may be the night I received the most flowers," Tan said.
Another fond memory is San Francisco Ballet's first tour of China in 2009, during which she performed Swan Lake in the Shanghai Grand Theatre. In 2015 San Francisco Ballet made a second tour of China and Tan danced a full-length ballet, Giselle, at the National Centre for the Performing Arts in Beijing.
"I must say that is the best Giselle I've ever danced. I felt like a feather floating in the air. What an enjoyable experience."
That trip also marked her 20th year with the company, she said. Her Chinese upbringing has a great influence on the way she approaches dance, and she is proud of it, she says.
"My parents often say, 'The best is what you do today is better than yesterday'. I know there is no perfection in the world yet that's how I keep getting closer to the perfect every day. This is surely a way of tackling difficulties and challenges, so we must be persistent and positive. We also need to remember to leave our comfort zone and stay curious."
Her secret to career longevity is to do things "with love and passion" and "Do not add age to your life but life to your age."
chennan@chinadaily.com.cn