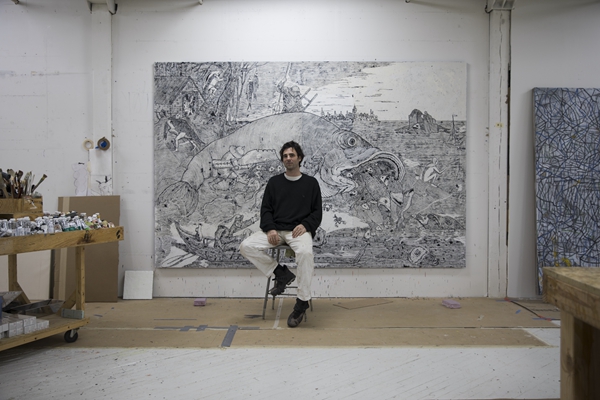 US artist Zachary Armstrong has collected candles since he was a little boy.
Now, the 37-year-old's wax works are being shown in China for the first time. The artist himself is not able to visit due to COVID-19 travel restrictions.
The display, titled Bag of Candles, is on at the Faurschou Foundation's Beijing gallery, where his paintings, sculptures and installations can be seen. The space has been transformed into a personal microcosm of cross-references from his own life, featuring a walk-through model of an encaustic house, a T-rex skull and an extensive wall installation.
"It's like a group show itself. All works are different," says the Ohio-based artist in an online video interview.
Many of his artworks on display refer to Armstrong's childhood, especially the model of a two-story house designed, built and painted by the artist. The double-sided painted house crafted using encaustic techniques allows visitors to walk through a kitchen, a living room, a garage and bedrooms.
Armstrong created things for this model from memories of his own childhood home, a place he experienced different moments, he says.
For instance, the fireplace in the living room represents scary moments, and the garage is a place to have fun.
"I try to incorporate all the feelings in life, good and bad. We have to deal with them at home," he says.
The life-size encaustic house is a "sculpture of paintings" that took the artist the entirety of 2019 to make.
It's so big that he set up a second studio to produce it. He painted each wall flat and built all the parts into a "final" house.
To paint the walls, Armstrong applied layers of beeswax mixed with pigments, a key material that he uses in other works. Another wall installation on display consists of shelves piled with bags of candles, pots, lamps, sketches and drawings.
"It's all about childhood memories. The candles are a symbol of them," says Armstrong.
His father is an art teacher, and Armstrong grew up in a house where art was encouraged.
A life-size bronze cast of a T. rex skull on show also comes from the artist's childhood aspiration. It's a "passion project" that took him three years to finish.
"When I was a kid, I always wanted to buy a dinosaur rather than a fancy car if I got rich."
Armstrong has paired the dinosaur sculpture with a wax painting.
The artist has remained dedicated to encaustic work for more than 10 years. He says he uses hundreds of metric tons of wax a year to paint on canvases.
Jens Faurschow, owner of the Faurschow Foundation that organized the show, says Armstrong has taken the technique, once revived by such US artists as Jasper Johns and Jackson Pollock, to a new level.
"He is an outstanding painter representing the new generation of US artists, and (he is) influenced by many US pop artists. We hope it (the show) will resonate well with the Chinese audience," says Faurschow.
The show was earlier planned for the beginning of 2020. Part of Armstrong's works were also shipped to Beijing by the end of 2019. However, the rest arrived a year later due to the pandemic.
The curating process was also difficult because the artist couldn't be in China to install his works, says Yang Ruobing, who helped to organize the show.
The artist worked all night online for three weeks before the show, telling the Chinese curating team how to install his works.
Armstrong says he thought it would be "impossible to finish "before the show as it was his first time doing something like that through the internet. He had planned to visit China for at least five weeks for the show but couldn't because of COVID-19 travel restrictions.
He says he still looks forward to being in China someday. Meanwhile, his work is being seen by a new audience.