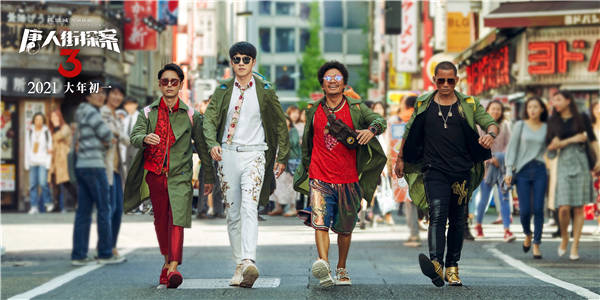 China's box office revenue in February reached 11.2 billion yuan ($1.73 billion) as of 3:40 pm on Wednesday, according to data tracking app Maoyan. It is a record-high figure in terms of box office revenue for a single month in China, and also for a single month in a single market in the whole world.
Major contributors to the enormous haul include time-travel comedy Hi, Mom, which has pocketed 4.34 billion yuan, followed by action comedy Detective Chinatown 3, which has earned 4.13 billion yuan, and fantasy thriller A Writer's Odyssey, taking in more than 780 million yuan. Other works, like animation Boonie Bears: The Wild Life, New Gods: Nezha Reborn and comedy drama Endgame, have also each generated more than 300 million yuan in revenue.
This year, the total box office earnings for the seven-day Spring Festival holiday over Feb 11-17 stood at 7.8 billion yuan. Moreover, the revenue in 2021 exceeded 10 billion yuan on Feb 16, 230 days earlier compared with 2020, in which the revenue reached this number on Oct 3.