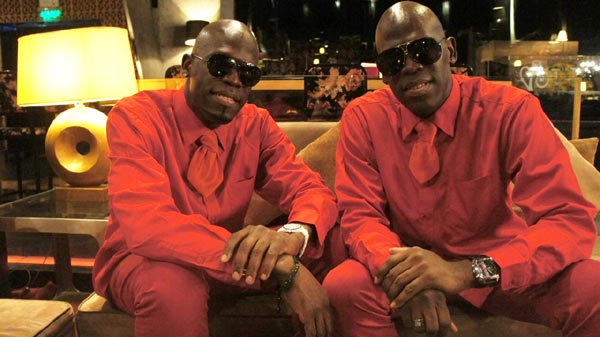 Scharod 'Danger' Jackson (left) and Scharodrick 'Preach' Jackson are best known by their stage name, The Jackson Twinz. They are recognized by many people in the Chinese capital. Photo provided to China Ddaily

Preach and Danger Jackson are identical twins, but that's not the only reason it's tricky to tell them apart.
Aside from being the spitting image of each other, they often dress alike, and the brothers are no shrinking violets when it comes to sartorial style. They appear more like screaming carnations, with red trousers, red shirts and matching short red ties. They top off the ensemble with black shoes, and wear dark aviator sunglasses even at night.
"Our father always told us, it doesn't matter if you are flat broke, you always dress like you have a million dollars in your pocket," Preach, whose real name is Scharodrick, says.
His brother Danger (real name Scharod) interjects, "2 million!"
The snappily dressed duo are best known by their stage name The Jackson Twinz, and are recognized by many people in Beijing. They have appeared in nightclubs and bars and have been the musical entertainment at countless balls, music festivals, fashion shows and corporate events ever since they touched down in the Chinese capital four years ago.
"We didn't plan to be here," Danger says. Preach nods in agreement: "But China had a surprise for us. It's green, it's open, it's new."
We recommend: