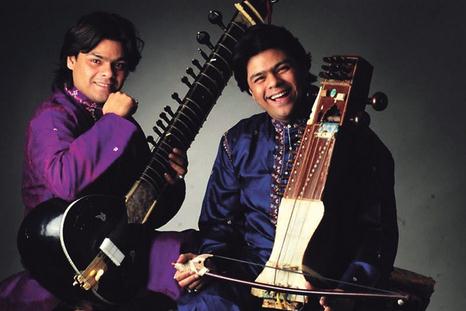 While popular music from India is synonymous with the spirit of Bollywood, traditional Indian music is said to be one of the oldest in the world, dating back to the Vedic period (1750-500 BC).
Indian classical music has evolved from the country's different races and cultures, legends, mythology and ethnicity, and has played a key role in defining the South Asian identity.
In modern times, exponents of this rich classical tradition have experimented with complex and refined art forms to create a world of rhythm (tal) and melody (ragas) through vocals and a number of locally developed instruments that are simply unique to India, and even dance.
There is a melody for every season — and time. Music connoisseurs will bet different notes resonate best at a particular time and period. The break of day must be with Bhairav, an early morning raga, and any evening with Yaman. Malhar is for monsoon and Bahar for spring. The list is endless.
There are essentially two major genres of Indian classical music — north (Hindustani) and south (Carnatic). And though they are fundamentally similar, they differ in style and practice.
Of late, there have been fears this rich heritage would be lost in the celebrity culture we live in. But a devoted crop of musicians have kept the tradition alive, drawing in both the purists and a livelier young audience with their innovations. Not all have managed to charm their way into the hearts, but a few who did retain a faithful following.
One such group of talented musicians will be performing in Shanghai next Saturday at Shanghai Center Theater. Murad Ali will perform on the sarangi, a stringed instrument, with his brother Fateh Ali accompanying him on the sitar for a classic instrumental duet.
Born into a family of musicians, Murad is a sixth-generation sarangi player and has performed with legendary musician Pandit Ravi Shankar, while Fateh has won over the crowd with his innovative skills on the sitar.
Both have attempted to infuse interest and respect for Indian classical music among the young. They will be joined on stage by vocalist Deborshee Bhattacharjee, and Abdul Rehman and Ashoke Mukherjee on the tabla, a 2-piece percussion instrument.
Speaking to Shanghai Daily, brothers Murad and Fateh say classical music is a form with the power to read and understand the audience.
"Indian classical music is not only rich but spiritual as well. It is not fixed but very innovative and wide like an ocean. Only the ragas are fixed but the compositions are extempore. They can be played differently depending on the artist's understanding of his or her audience.
"The simplest way to describe Indian classical music is that it is divine, powerful, soothing, soulful and effective and connects the audience to the artist very easily."
Describing the finer details of his instrument, Murad says the sarangi has a centuries-old history.
"Sarangi is one of the most popular and ancient musical instruments in our country. It is the only instrument in the world which is played by the cuticles — the upper part of the nails. The sound of sarangi is also close to the human voice. The ancient name of sarangi was sau rang, which means hundred colors, but it is not because it has different colors but because sarangi is an instrument which can accompany any instrument, dance, vocal, percussion, or even fusion," Murad says.
"Times have changed. We usually get a more general audience who want to hear both traditional and music that is light or fusion. It is a challenge for us to understand our audience and give them music according to their choice, which is what has actually made today's musicians or artists more innovative and creative."
Date: August 30, 4-7pm
Ticket: 280 yuan, 380 yuan
Venue: Shanghai Center Theater, 1376 Nanjing Rd W.
Tel: 1363-6504-597
E-mail: ssourabh@hotmail.com
We Recommend: