After the hot dry summer, autumn comes with a soothing breeze as well as the long-awaited Mid-Autumn Festival. Here are some recommended scenic spots to spend the festival in Quanzhou.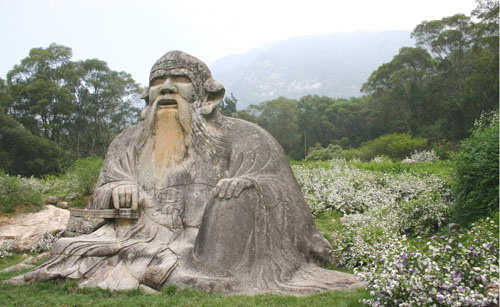 Mount Qingyuan
, located in the northern suburbs of Quanzhou and commonly known as "Northern Mountain", is three miles from downtown Quanzhou. Qingyuan Mountain has undulating ridges and peaks with rocks spreading all over. Standing 572 meters above sea level, Qingyuan Mountain stretches for 20 km with pictographic rocks in thousands of postures. It has enjoyed the reputation of "The No. 1 Fairy Mountain in the Seas of Fujian Province" and has been known as one of the four famous mountains of Quanzhou. The most famous site is Laojun Rock, the oldest statue of Laozi in China. Standing on the top of the mountain one can get a great bird's eye view of Quanzhou.
The Confucius Temple lies inside Pangong on Zhongshan Street, Licheng District. It began to be built in the beginning of Taipingxingguo of the Northern Song Dynasty (976 A.D.), the largest Confucius Temple to survive in South China. Dacheng Grand Hall is the main structure for offering a sacrifice to Confucius. It is constructed of seven rooms in width and five sections in depth, with bucket arches and beams arranged in a crisscross pattern and painted or carved with dragons, birds, beasts, flowers and plants. The hall's columns are of stone. Seventy-two pieces of rectangular-shaped stone are laid on the surface of the bridge, symbolizing the 72 favorite disciples of Confucius. There are side rooms on both sides, Dacheng gate in the front, and Jinshengyuzhen Gate. The present structure is original, from the early Qing dynasty, and was listed in the list of key national safeguard cultural relics in 2001.