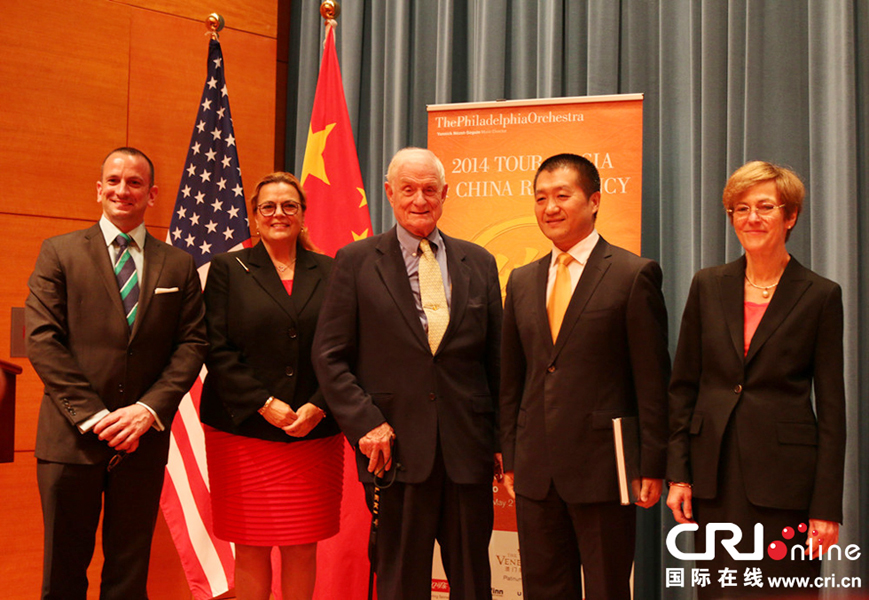 Philadelphia Symphony Orchestra president and CEO Allison Vulgamore (second from left), the witness of Philadelphia Orchestra's first visit to China Platt (third form left), and Lu Kang, chaired affaires ad interim at the Chinese Embassy in US participate in the press conference marking the 35th anniversary of the establishment of Sino-US diplomatic relations on July 29, 2014.
The Philadelphia Orchestra on Tuesday said that it will stage a concert in November to mark the 35th anniversary of establishment of China-U.S. diplomatic relations.
At a press conference at the Chinese Embassy in the United States, the orchestra's President Allison Vulgamore said that the concert will be held in Philadelphia on Nov. 7 as part of the orchestra's North American tour during the second half of 2014.
Citing the orchestra's successful 2014 tour of Asia and China from May 21 to June 6, she said cultural exchange activities between the orchestra and its Chinese counterpart have fostered common understanding of each other.
"Since the first visit more than 40 years ago, undertaken at the request of former U.S. President Nixon, the orchestra's relationship with the people of china has grown, from a single cultural step forward, to a multi-faceted one that is substantial, sustainable, and as groundbreaking as our tour was in 1973," she said.
Nicholas Platt, who had been chief of the political section of U.S. Liaison Office in Beijing and who had helped facilitate the orchestra's 1973 tour to China, also recalled at the press conference the bilateral exchanges in the fields of culture, education and sports over the past 35 years between China and the United States.
The two countries have achieved fruitful developments in the field of people-to-people exchanges in the past and will gain greater progress in the field in the future, he added. Lu Kang, minister of Chinese Embassy in the United States, noted that the 5th round of China-U.S. High-Level Consultation on People-to-People Exchange was successfully held in Beijing.
As an important content of the dialogue, culture exchange will play a more active role to enhance development of relationship between China and the United Sates, he said. Besides the concert in Philadelphia, the orchestra's North American tour includes concerts in Chicago, Washington, New York, Ottawa, Toronto, and Montreal.
We recommend:
| | | |
| --- | --- | --- |
| | | |
|  Film ambassador promotes Chinese films, TV series in US | Former president Carter lauds US-China relations  | China, US forge concrete agreement on culture exchange  |