Ancient Pingyao Once More, a drama set in an artificial town, is a creative form of performance representing Pingyao city in the late Qing Dynasty (from the late 19th to the early 20th century). Audiences call it a living drama without a stage.
There is no traditional stage or auditorium. The audience moves with the actors through the town, interacting with them. A highlight is that it provides a diversified sensory experience. Some feel it is like watching a show; others visiting a museum; some believe it to be a firsthand cultural experience; others traveling through time.
The drama is critically acclaimed as the most creative show in the past decade in China. Since its debut on February 18 last year, it has been staged more than 600 times, attracting more than 260,000 visitors.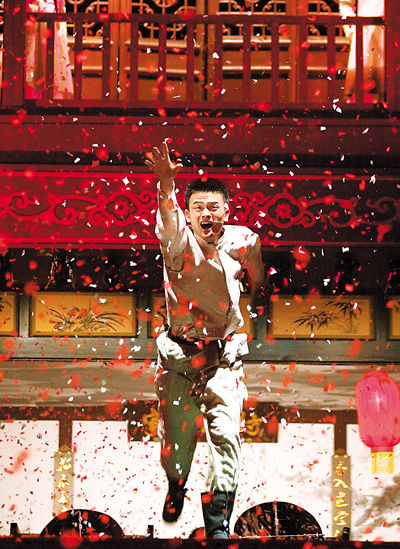 Leading actor, Cheng Fei, stars in Ancient Pingyao Once More. [Photo/Chinadaily.com.cn]
A new performing style—touring while watching
"I've never thought to see such a drama", Mr. Zhang, a visitor from Beijing, said, "It's like wandering in the ancient city back a hundred years!"
Mrs. Hu from Shanghai, said the drama inspired her to see Pingyao from a new perspective, "The show made me realize that I've missed lots of cultural essences in my last visit, and I shall tour the city again."
Walking out of the relics of the ancient city gate, you can see the "theatre" with grey tiles located just a hundred meters ahead. It has no traditional entrance or staging hall, just miniatures of an antique architectural complex, setting the grand old town wall as its natural stage background.
The audience enters from a variety of directions, like people pouring into an open city. There are blocks and streets, courtyards, city walls, squares and also Biao Ju (an old establishment that provides escorts for a fee), Piao Hao (ancient currency exchange shop), Pai Lou (a kind of decorated archway), stalls selling silk and fabrics, and pawnshops, which feel like a giant museum of Shanxi merchants in old times.
Streams of people come and go, while tradespeople peddle their wares along the streets, and the sound of children reading keeps coming out of the Si Shu (ancient Chinese private schools). Hundreds of actors play a variety of roles, passing through the "city" together with their audience. You can hardly tell the visitors from the actors were there no difference in their clothing.
We Recommend: